Hrithik's Facebook account hacked, miscreant starts live streaming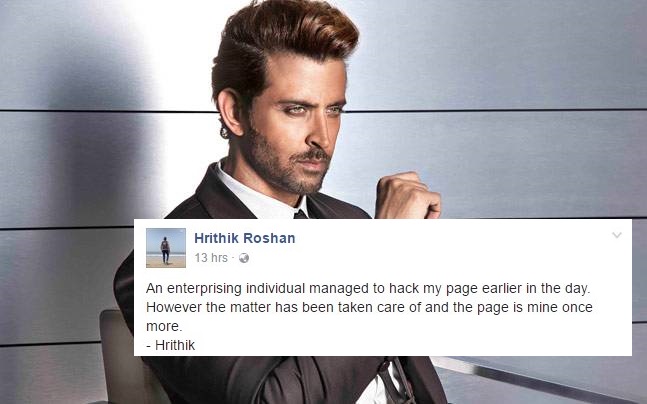 Over the last few months Bollywood's greek god Hrithik Roshan has been in the news quite a lot for his 'internet and social media' related woes. For some reason, miscreants have been targeting the 'Krrish' actor for quite sometime now. From an email imposter to a possible Twitter hack, Hrithik had seen it all.
On Monday, the actor was at the receiving end of another attack, when an unidentified hacker took over the control of his Facebook account for a few hours.
The actor's Facebook account got hacked sometime around Monday evening, when the culprit changed his display picture and started a live steam. Hrithik has over 16 million fans on his Facebook page.
Approximately 3000 people joined the stream, only to realize that it wasn't Hrithik who was streaming live. But, before the hacker could do any more damage, the account was pulled down by the social network.
After a few hours, it was re-activated and the actor was given back the control of his account.
Hrithik even acknowledged the hack by posting a message on his page that read, "An enterprising individual managed to hack my page earlier in the day. However the matter has been taken care of and the page is mine once more."
The actor hasn't indicated if he will be filing a complaint with the cyber cell for the hack. Incidentally, the cell is also working on tracing the perpetrator who allegedly impersonated him and conversed with actress Kangana Ranaut.
Back in June, the actor claimed that some people were mysteriously 'unfollowed' from his Twitter account. But, he didn't pursue the matter as no harm was done.
However, the series of events that have transpired this year alone prove that a notorious hacker is obsessed with the actor. Either that, or the actor just uses a simple password that is easy to crack.
On the professional front, the actor is busy shooting for Sanjay Gupta's 'Kaabil' which also stars Yami Gautam.