Mumbai must revive its iconic double-decker buses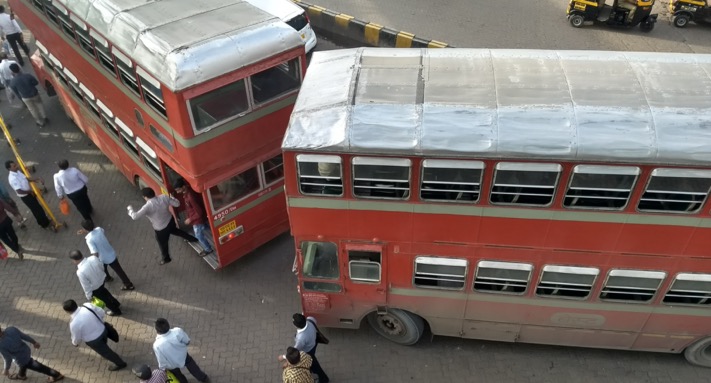 The running of double-decker buses on longest routes and both the highways in Mumbai the past week has revived interest in this iconic mode of transport all over again. Introduced in Bombay in 1937 to cope with the growing number of passengers on the lines of the red double-decker buses in London, the sheer size and look of the double-decker buses made them popular from day one.
"The bus represents Mumbai and there is something about those buses that make them an instant hit. Today, we have a fleet of 122 and they mostly run in the island city and a few in the suburbs. Routes like the one at Churchgate-CST, the one at BKC are very popular and heavily patronised. We are being forced to scrap these buses as they are old and do not match the pollution control emission norms. They are very uneconomical for commercial runs as they are run on diesel," a BEST official said.
The double-deck public transport system has been popular in Mumbai historically too. It was the Bombay, Baroda & Central India Railway (now called Western Railway) in 1862 that first introduced double-decker coaches for the general class as crowds swelled. Even the trams that were introduced in the city in 1870s quickly became a popular public transport. As crowds increased, the company soon introduced double-decker tramcars in 1920 to cope with the burgeoning numbers.
Modelled on London, double-decker motor buses came in Bombay in 1937. In the 1960s, some U.K-built popular Routemaster models, the popular double-deck routes in London, found their way here.
In a slow but steady death process, double-deckers have been quietly vanishing from the city's scape. The fleet was brought from 227 in April 2006 to 171 April 2008 and 134 in July 2009. Now just 122 remain.
Working out the math, an official said the cost of operation of a double-decker bus is around Rs 70 per km against Rs 45 for a single-decker bus. Moreover, a double-decker requires two conductors to ferry a maximum of 91 passengers, while a single-decker makes do with just one conductor for its 72 passenger carrying capacity.
Additionally, maintaining a double-decker costs more than Rs 50,000 – a problem brought on by the fact that unlike the rest of the fleet which runs on CNG, double deckers are still an exception as they run on diesel.
The Transport for London has been reviving its iconic double-decker fleet and continued to keep these vintage buses in operation on the heritage route. In 2007, a hybrid-powered double-decker entered service on London Buses and by late 2008, more hybrid double-deckers entered service in London.
A New Routemaster was also developed and entered service on 20 February 2012. In October 2015, London added five all-electric double-decker buses – the world's first. It is time for the BEST administration and those in power to come together and save the dying iconic fleet and introduce out-of-the-box ideas to revive its existence.
About the author:
Rajendra B. Aklekar is the Senior Assistant Editor, Mid-Day and author of best-selling books on India's railway history, heritage & trains, including one short-listed as Best Non-Fiction at Bengaluru Lit Fest, 2015.