Praying for better monsoon: Matunga temple organises special puja to appease rain god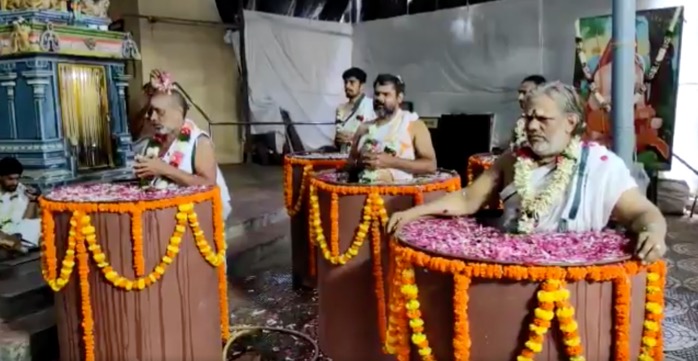 In a bid to appease the rain god, special prayers were organised at Sri Sankara Mattham temple in Mumbai's Matunga area on Sunday.
During the puja, pandits saw inside chest deep water drums and recited 'Varuna Japam' to appease the rain god to bring a healthy rainfall in the state, which has been reeling under one of the worst droughts.
"We believe this puja will appease the rain god and get rains," Shiva Subramanian, Secretary, Sankara Mattham was quoted as saying.
With the weather department forecasting a delayed onset of monsoon, the state has deployed the highest ever number of water tankers to cater to the needs of several drought-hit areas, including Marathwada – the worst affected region in Maharashtra.
Amid the ongoing water crisis, the cabinet also sanctioned a Rs 30 crore proposal for cloud-seeding experiments in dam catchment areas of Marathwada, North Maharashtra, and Vidarbha.
Incidentally, this is not for the first time that such puja has been organised to appease the rain god. Such religious functions have been organised in various parts of the country, especially those facing acute water scarcity.
Earlier, Udupi Nagarika Vedike (Udupi Citizen Forum) in Karnataka had arranged the marriage of two frogs to appease the rain god.