Video: 4 bikes, 4 rickshaws gutted in Thane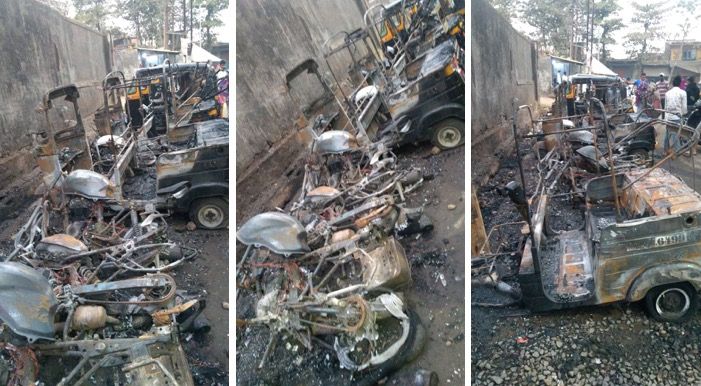 At least eight vehicles, including four two-wheelers and four auto-rickshaws, were gutted in a fire at Thane during the wee hours of Monday.
According to preliminary information, the fire engulfed the vehicles out around 3 am today. The incident took place near Wagle bus depot, Wagle Estate in Thane West.
After the fire department was alerted about the mishap, a team of firefighters and local police reached the spot with one fire engine and one rescue vehicle.
The blaze was doused after a few minutes and did not result in any casualties. All affected autos and bikes, however, were completely gutted in the blaze.
Police have launched a probe to ascertain if the fire broke out due to negligence or if any miscreants were involved.
Details of charred auto-rickshaws:
1. MH 04 JH 6448 (Owner: Unknown)
2. MH 04 JH 3125 (Owner: Unknown)
3. MH 04 JH 6499 (Owner: Unknown)
4. MH 04 HZ 1572 (Owner: Unknown)