Video: Fire breaks out at Peninsula Park building in Andheri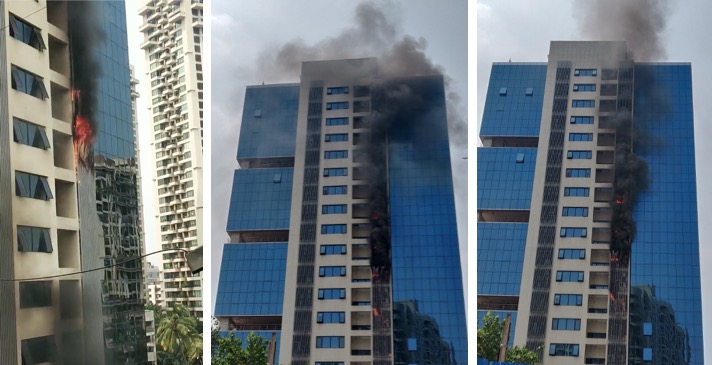 A fire broke out in an office building in Mumbai's Andheri area on Monday afternoon.
According to officials, the fire broke out around 12:45 pm at the Peninsula Park building, located off Link Road in Veera Desai Industrial Estate near Veera Desai Road in Andheri West.
Mumbai Fire Brigade was alerted about the incident at 12:48 pm and the first responders arrived at the spot at 1:07 pm, when the incident was escalated to a Level-II call.
Four fire engines, one quick response vehicle and three jumbo tankers, along with an ambulance, have been pressed into service.
"Fire confined to 6th floor of ground plus upper 22-floored commercial building," fire brigade chief P.S Rahangdale said.
So far, three persons have been rescued from the 11th floor through the staircase. However, more are stranded.
No casualties have been reported as of publishing this report. Firefighting and rescue operations are currently underway.
Further details awaited.
---
Update (2:15 pm)
* Fire was confined to electric duct from the 6th to 12th floor.
* 4 to 5 persons trapped in upper floors were rescued safely. About 40-50 persons stranded on upper floors are being evacuated now.
* Fire system of building was in working condition due to which the blaze was brought under control in shortest possible time.
* "The incident highlights the importance of a functional fire fighting system in saving lives and property," MFB Chief P.S Rahangdale said.
* No casualties reported.
---
The incident comes a day after a major blaze at Aditya Arcade Building on Lamington Road in Grant Road East left one dead and three firemen injured.