Video: Fire breaks out on roof of Marol Masjid in Andheri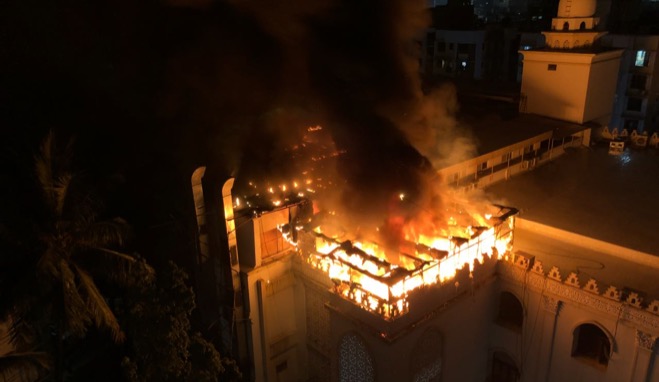 A fire broke out at Masjid E Saifee, also commonly known as Marol Masjid, during the wee hours of Tuesday. The Masjid, belonging to the Bohra community, is located at Saifee Park on Church Road in Marol, Andheri East.
According to preliminary information, the fire broke out around 4 am and Mumbai Fire Brigade was alerted immediately after. Within 15 minutes, officials from the fire department reached the spot with six fire tenders.
A team from MIDC police also arrived and the area was subsequently cordoned off. Officials, along with help from locals, managed to bring the fire under control after around 45 minutes.
Eye-witnesses say that the fire started on the plastic shed that was installed on the roof. In no time, the entire shed was engulfed in flames and a thick cloud of smoke started billowing from it.
The smoke cover sparked some panic among locals. However, the situation was quickly brougth under control.
The mishap, which incidentally took place during the holy month of Ramzan, did not result in any casualties.
The cause of the fire is not known as of publishing this report.
Video: