BJP raps Sena over mayor's 'BMC not responsible for flooding' remark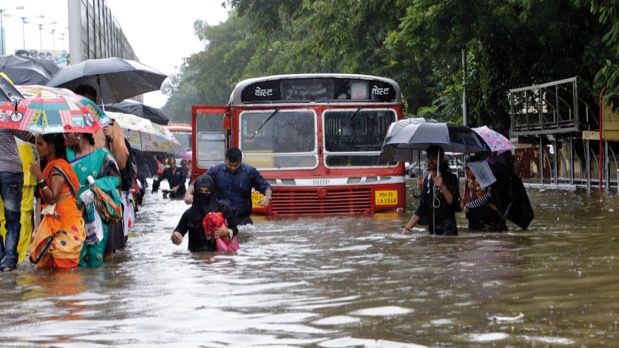 Less than a day after Mumbai Mayor Vishwanath Mahadeshwar of Shiv Sena reportedly said the BMC will not be answerable if the city floods this monsoon, city BJP chief Ashish Shelar said the civic body and the Sena cannot skirt their responsibility.
"Those who said we did it are now saying we ran away from it," Shelar said while taking a dig at the Sena over its tagline "We did it" for the last years BMC elections.
Interacting with reporters at the state BJP headquarters, Shelar alleged that Yuva Sena chief Aaditya Thackeray called on BMC commissioner to argue the case of hoteliers and the problems they might face during monsoon instead of advocating the cause of common Mumbaikars.
"We thought that the Yuva Sena leader had come to meet the BMC Commissioner to discuss about the removal of silt from the stormwater drains and pre-monsoon works.
"However, when we made inquiries, we were informed that the meeting between Yuva Sena chief and BMC municipal commissioner was over rooftop hotels and how the hoteliers would get licenses for night parties and monsoon sheds for these hotels," Shelar claimed.
Mahadeshwar had earlier said that ongoing work for metro lines, not the BMC, will be responsible if Mumbai floods in the coming monsoon.
Shelar said the BMC and the Sena cannot run away from their responsibility to ensure that the city does not flood again during monsoon.
"The cleaning up of the stormwater drains is an important issue for Mumbaikars," he said, adding that the BJP has already held two joint meetings between the Railways and the BMC.
Taking a dig at the mayor, Shelar said there is no clarity in the stormwater drain cleaning work.
The BJP MLA alleged that contractors black-listed earlier are being awarded contracts to remove silt from drains in the city.
"No accounts of the quantity of silt removed so far are maintained. Nobody has the idea whether the desilting work was videotaped or not. Names of the contractors are not being displayed on the notice board at the site of the stormwater drains," he alleged.