BMC to levy up to Rs 10,000 fine on illegally parked vehicles from July 7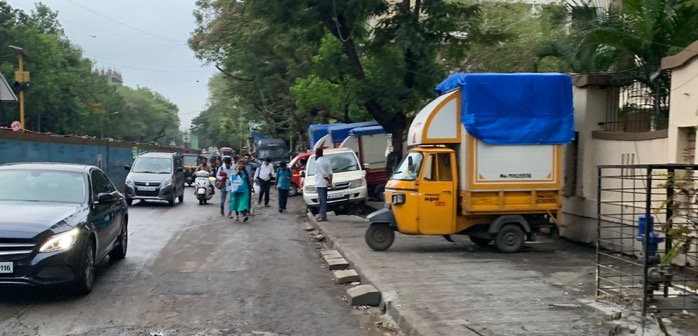 In a bid to solve the city's congestion problem, the Brihanmumbai Municipal Corporation (BMC) has decided to impose a fine of up to Rs 10,000 on illegally parked vehicles from July 7.
The fine would apply to vehicles that are parked in unauthorised spaces, thereby blocking roads and affecting the movement of pedestrians and emergency vehicles. It will apply to two-wheelers, three-wheelers, four-wheelers, trucks, tempos and private buses.
The move is aimed at unblocking roads and encouraging vehicles owners to either park in municipal parking lots or opt for public transport.
The BMC has 146 public parking lots across the city, which can accommodate around 30,000 four-wheelers and 4,000 two-wheelers. However, they are seldom filled to capacity as vehicle owners park on the road to avoid coughing up the parking fee.
The newly appointed civic chief, Praveen Pardeshi, passed the order to enforce penalties on illegally parked vehicles on Wednesday and instructed all 24 wards to appoint contractors for collecting the fine.
"We are implementing the rule wherever there is a pay-and-park alternative available within a distance of a kilometre and on arterial roads," Pardeshi said.
Given that people often argue with contractors for paying fine, Pardeshi has asked to include ex-servicemen in their teams to ensure strict implementation and enforcement of the rule, which will come into effect from July 7.
The fine, which will be levied in the form of an e-challan, will be in the range of Rs 1,000 to Rs 10,000 depending on the type of vehicle, location, the severity of the violation, etc.
Typically, illegally parked vehicles are towed away and fined by the traffic police. However, since vehicles also encroach upon public roads, the BMC has the right to take action against them.
"Car owners encroach on roads by parking their vehicles and barring others from using that portion of public land. So, action will be taken against such encroachers," Pardeshi said.
The BMC will invoke the Mumbai Municipal Corporation Act's sections 314 for encroachment and 381 for nuisance to implement the rule to penalise the offenders.
It has started putting up no-parking boards in relevant spaces and is also in the process of listing the penalty for offences for illegal parking.
The decision, however, has attracted a mixed reaction from the public. While some have lauded the new civic chief for the bold move, others have called it authoritarian and unnecessary due to lack of designated parking spaces in the city.