Complaint filed against BJP spokesperson at Versova PS for defamatory remark against Rahul Gandhi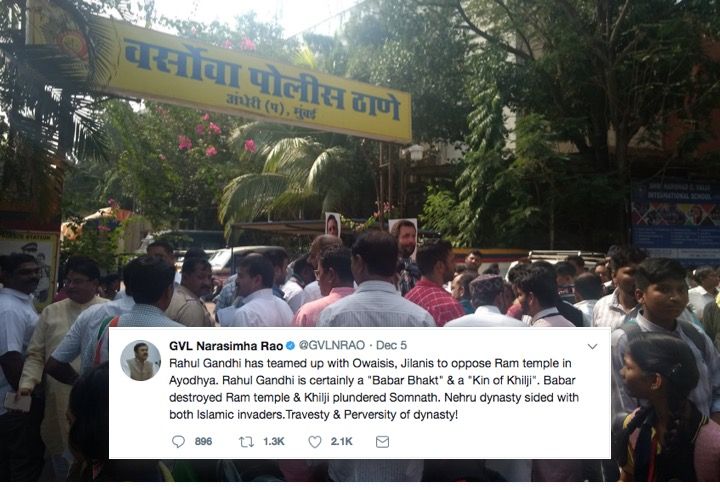 The Mumbai Unit of Congress on Friday filed a police complaint against Bharatiya Janata Party (BJP) spokesperson GVL Narasimha Rao at Versova police station for calling Rahul Gandhi a 'kin of Khilji' and 'Babar bhakt'.
On Wednesday, Rao called the Congress' President Elect "Babar bhakt" and "kin of Khilji" for allegedly opposing the construction of Ram temple in Ayodhya.
"Rahul Gandhi has teamed up with Owaisis, Jilanis to oppose Ram temple in Ayodhya. Rahul Gandhi is certainly a 'Babar Bhakt' & a 'Kin of Khilji'. Babar destroyed Ram temple & Khilji plundered Somnath. Nehru dynasty sided with both Islamic invaders.Travesty & Perversity of dynasty!" he tweeted.
The Congress took strong objection to the derogatory comment, with it's Mumbai Unit President Sanjay Nirupam asking Rao to delete the tweet or face legal action.
After the BJP spokesperson ignored the warning, Nirupam and dozens of Congress workers visited Versova police station today morning to file a complaint against him under section 66(A) of the Information Technology Act for his defamatory remark.
"The BJP's spokesperson has levelled highly objectionable allegations against Rahulji. By relating him and his family to Khilji, he means to say that the Gandhi family was involved in plundering Somnath Mandir. He has dared to say that our leader is against Ram Mandir in Ayodhya," Nirupam was quoted saying.
Earlier this week, senior Congress leader Mani Shankar Iyar had faced a backlash from BJP for his "neech aadmi" remark against Prime Minister Narendra Modi.
Congress, however, asked the leader to apologise for his remark and suspended him from the party membership.