Congress corporator allegedly detained for filling potholes in Sion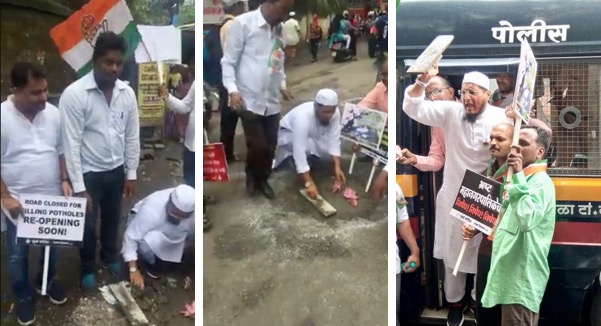 Congress corporator Sufiyan Niyaz Vanu was allegedly detained and taken to Wadala Truck Terminal (TT) Police Station on Thursday for filling potholes in Sion's Pratiksha Nagar area.
According to sources, the corporator had organised the program of 'filling potholes' to shame the ruling Shiv Sena-BJP coalition, which is responsible for running the state and the Brihanmumbai Municipal Corporation (BMC).
Sufiyan, who is also a member of the civic works committee, arrived at MHADA colony in Pratiksha Nagar today afternoon along with a slew of placard holding Congress workers.
The party workers filled several potholes with a mixture of stone and cement. After flattening the mix, they covered each pothole with lotus flowers while chanting anti-BJP slogans like "ek hi bhool, kamal ka phool"
When TV reporters present on the spot questioned the Congress leader, he justified his actions by stating that citizens had the right to take matter into their own hands due to the civic body's disregard for people's lives and gross failure to maintain city's roads.
Minutes later, a team from Wadala TT police station arrived at the spot and detained the corporator for protesting without permission. He was later escorted to the police station in a police van.
"No FIR has been registered till now. We simply detained him (Sufiyan Vanu) to ensure law and order situation," an official from Wadala TT Police, on the condition of anonymity, told Local Press Co.
Incidentally, the roads near Pratiksha Nagar are littered with crater-like potholes, which have somehow skipped the BMC's radar.
The incessant rainfall over the last few days has only worsened the situation for locals and BEST buses, who are forced to dodge the potholes for their daily commute.