I still follow Hindutva, won't deviate from it: CM Uddhav Thackeray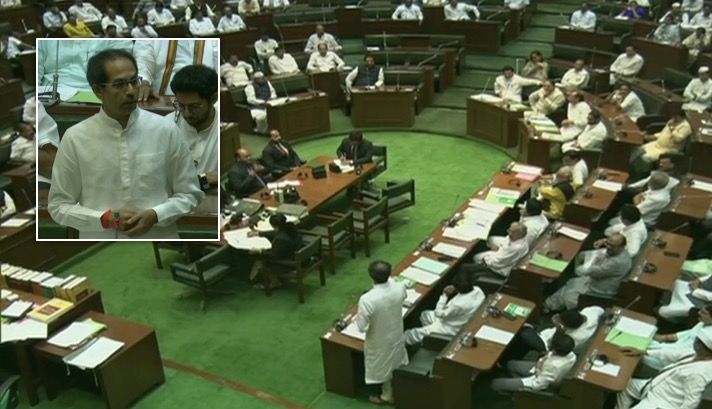 Despite forming a government with a 'secular' combine of NCP-Congress, Maharashtra Chief Minister Uddhav Thackeray on Sunday said he would never abandon the ideology of Hindutva as it is indispensable to Sena.
"I am still with the ideology of 'Hindutva' which cannot be separated from me," he said while addressing the special session of the Assembly.
The remark comes in response to former CM and leader of opposition Devendra Fadnavis, who had slammed Uddhav last week for compromising on its core ideology and joining hands with its ideological opponents NCP and Congress.
"The Shiv Sena's Hindutva now rests at the feet of (Congress president) Sonia Gandhi. Everyone is seeing this," Fadnavis had said.
Uddhav-led Shiv Sena severed ties with the BJP after the parties failed to reach a consensus over the sharing of the CM post. It later formed a government with NCP-Congress, against whom it had fought the polls, under the banner of Maha Vikas Aghadi (MVA).
The Sena, sources say, had initially disagreed on using the word 'secular' in the MVA's Common Minimum Programme (CMP). However, the final version starts with, "The alliance partners commit to uphold the secular values enshrined in the Constitution".
Speaking after BJP's Devendra Fadnavis' election as the Leader of Opposition, Uddhav said he learnt a lot of things from the former chief minister.
"I have learnt a lot of things from Devendra Fadnavis and I will always be friends with him. In the past five years, I have never betrayed the government."
Uddhav took a jibe at Fadnavis over the collapse of the BJP-Shiv Sena alliance after the former refused to accept Sena's demand for equal power-sharing in the new government.
"I am a lucky CM because those who opposed me are now with me and those who I was with are now on the opposite side. I am here with my luck and blessings of people. I have never told anyone that I will be coming here but I came," he said.
Continuing his tirade against the BJP, he said, "I won't call you (Devendra Fadnavis) an 'Opposition leader', but I will call you a 'responsible leader'. If you would have been good to us then, all this (BJP-Shiv Sena split) would have not happened."