MNS shames BMC engineer, forces him to hold placard stating he's responsible for potholes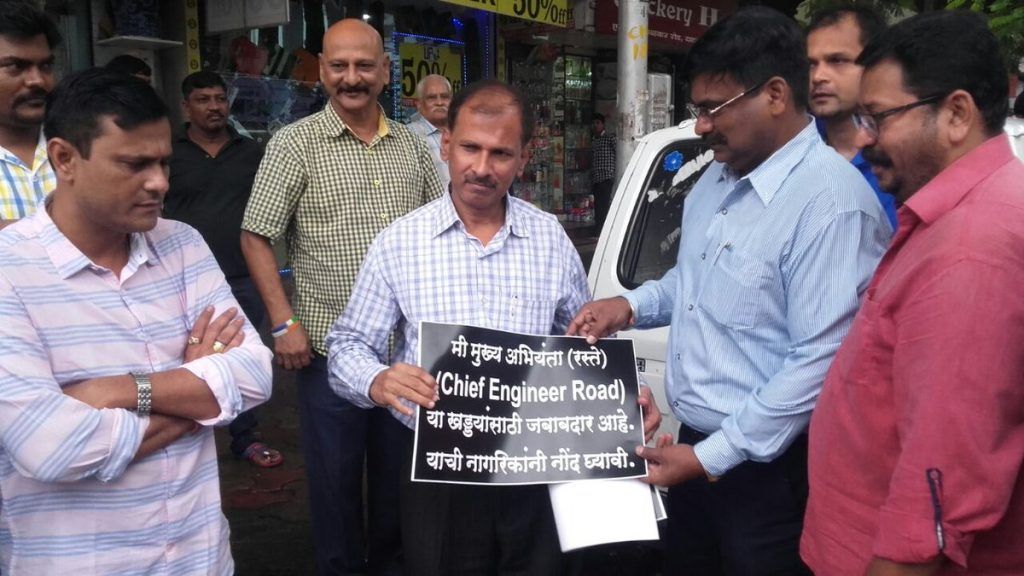 One of the biggest concerns for Shiv Sena, BMC's ruling party, ahead of the upcoming elections will be the sorry state of roads in the city, which have led the party to face severe backlash from motorists.
In a bid to sway some of the distraught voters, Maharashtra Navnirman Sena (MNS) workers on Wednesday took Sanjay Darade, chief engineer of the BMC's Roads Department, to Dadar and made him stand with a placard that stated he was responsible for the condition of city's bad roads.
Darade later approached Shivaji Park police station to file a complaint against the MNS workers. However, an FIR has not been registered till now.
Gangadhar Sonawane, senior police inspector of Shivaji Police station said that they have received a complaint and are currently probing into the matter.
Needless to say, the civic body's top brass did not take kindly to the incident.
Municipal Commissioner Ajoy Mehta said, "We will a file a police complaint and necessary action will be taken against the corporators."
On Wednesday morning, MNS workers, including corporators Sandeep Deshpande and Santosh Dhuri went to meet Darade at his Worli office. They called Darade out Dadar under the pretense of showing him potholes. He was not aware of the party worker's real intentions.
However, once he arrived at the spot between Sena Bhawan and Plaza Theater, he was made to wear a placard that stated (in Marathi), "I, the chief engineer of roads department, am responsible for potholes in the city. Citizens take note of this".
Following the incident, Deshpande said that the civic official had been warned.
"People blame us for the failure of the roads department. We had given a deadline of October 5 and he had to take the blame for not filling hundreds of potholes," he added.
The civic body's earlier claim of 35 unrepaired potholes in the city was also debunked by corporators from all parties during yesterday's standing committee meeting.
According to sources, Deshpande and Dhuri could also get debarred from the standing committee after yesterday's incident.
Back in August, Deshpande had threatened to kidnap Ramakant Biradar, assistant municipal commissioner of G North ward, over delayed repair of potholes in Dadar. In 2012, he had slapped a contractor who failed to clear garbage bins on time.