MNS workers arrested for burning Pakistani clothing, rioting outside H&M store in Inorbit Malad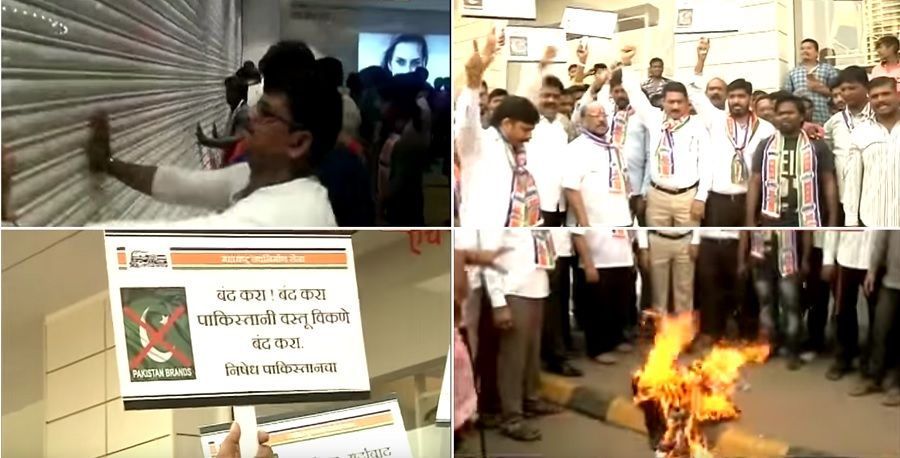 At least 11 Maharashtra Navnirman Sena (MNS) workers have been arrested for rioting and burning Pakistan-made fabrics outside a shopping mall in suburban Malad on Sunday.
According to eyewitnesses, around 70 MNS workers entered the Inorbit mall at around 4.30 PM and went to the H&M store where Pakistani brand fabrics and other products were being sold.
The party had allegedly warned the store's management about selling Pakistan-made garments earlier. However, after finding no action had been taken, the workers surrounded the store yesterday and downed its shutters in protest.
The workers shouted slogans against Pakistan and tried to vandalise the shop, an official said adding they later collected the clothes of different Pakistani brands, came outside the mall on the street and torched them.
The police subsequently rushed to the spot and brought the situation under control. Later, a case against the miscreants under relevant sections of the Indian Penal Code was registered at Bangur Nagar police station.
"We have arrested the MNS activists who torched the Pakistani brand fabrics outside the mall," Senior Inspector Santosh Bhandare of Bangur Nagar police station told news agency PTI.
The activists also warned mall authorities not to sell fabrics, cloths and other products of Pakistani brands.
Incidentally, this is not the first protest of its kind by the party.
On April 18, the police had apprehended 10 MNS workers allegedly for creating ruckus at a showroom of Zara, in Lower Parel area here, opposing the sale of clothes of Pakistani brands.
Despite the dismal performance in the recently concluded BMC polls, denoting a failure to understand and work towards the common man's issues, the Raj Thackeray-led MNS is doing little to change the narrative while seeming hell bent on resorting to its old ways.