No bikes or autos allowed on new BKC-Chunabhatti flyover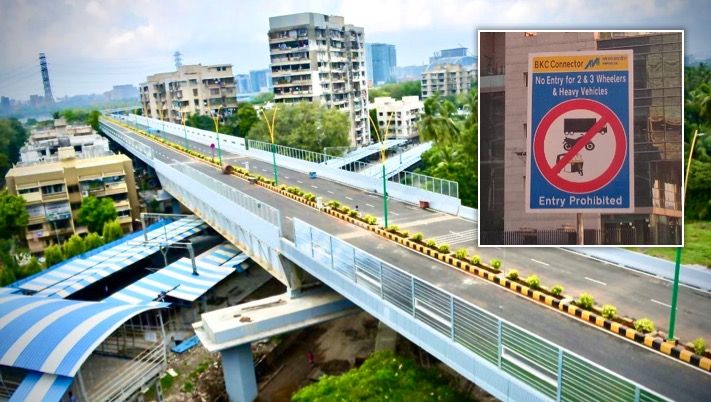 The opening of the long-delayed and crucial BKC-Chunabhatti flyover on Sunday has met with a mixed response from commuters amid authorities' decision to ban entry of two-wheelers and autos on the route.
The 1.6-km long 4-lane corridor starts from Somaiya Grounds on Eastern Express Highway before the Sion flyover and ends at G-Block near Mumbai Metropolitan Region Development Authority (MMRDA) building in Bandra-Kurla Complex.
Some of the first commuters on BKC-Chunabhatti Connector!
Their joy makes it all worth it!?♥️ pic.twitter.com/FDQWKfdEWL

— MMRDA (@MMRDAOfficial) November 10, 2019
The near 200 crore structure is expected to provide a faster route to the arterial Eastern Express Highway and is expected to greatly reduce traffic jams in the area, which is among the city's premier business hubs.
The new flyover is expected to reduce travel by 30 minutes between Sion and Dharavi, former Maharashtra Chief Minister Devendra Fadnavis tweeted yesterday.
"In public interest, I declare that BKC-Chunabhatti Connector (flyover) stands open from today evening, With this, Mumbaikars will now save 30 minutes travel time & avoid traffic congestion at Dharavi and Sion junctions," Fadnavis tweeted.
A fish belly shaped elevated corridor, passing through BKC, Babubhai Compound, Central Railway (near Sion), Duncan Colony, Harbour Line (Chunabhatti station), Somaiya ground and lands at EEH, is our yet another step towards bringing ease in living for Mumbaikars, the Maharashtra chief minister noted.
New flyover not for all
While those who travel by cars or taxis are elated with the flyover's opening, a section of motorists is cross with the MMRDA for disallowing two-wheelers and autorickshaws.
Further, trucks and trailers have also been barred from using the bridge, even as BEST and other tourist buses are allowed.
On its part, MMDRA claims the prohibition was put into effect following the directives of the Mumbai Traffic Police. The reasoning, however, has done little to assuage thousands of affected bikers and office-goers who were looking forward to a shorter journey.
"Since it takes me a better part of an hour to reach my office in BKC, I was looking forward to the flyover's opening. Today, I was shocked to see the 'no two-wheelers allowed' sign at the start. Moreover, there was no indication that the corridor will be off-limits to bikers earlier and this has come as a huge disappointment for me and many others," said Chembur-resident Subhash Mhatre.
A similar sentiment is shared by office-goers who opt for a rickshaw for their daily commute. Even auto drivers and their unions have deemed the move as 'unfair' as it gives an edge to cab aggregators.
"I know some auto wallas don't adhere to lane discipline. But it is wrong to punish all rickshaw drivers for the actions of some. Also, since autos are not allowed on the flyover, people will be forced to take cabs like Ola or Uber, which are already eating into our business," said an auto-driver stationed near Priyadarshini Circle.
Meanwhile, Joint Commissioner of Police (Traffic) Madhukar Pandey said the decision to allow the entry of bikes and autos will be taken in due course of time.
"We are trying to enforce the policy adopted for the Eastern Freeway. As it is an elevated road, allowing movement of these vehicles could prove dangerous. We will study the traffic movement. Once we have a pattern in place, we will take a call on two- and three-wheelers. As of now, it is a strict no," he told Mid-Day.