Part of Dahisar skywalk collapses, 2 men including a senior citizen injured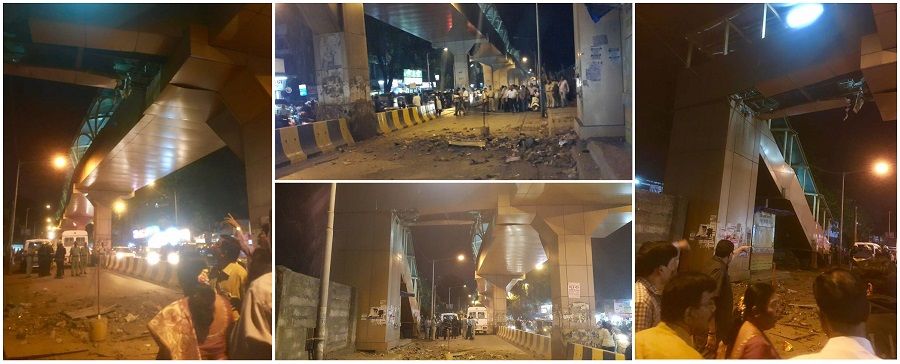 In yet another incident highlighting the sorry state of the civic amenities in the city, two men were injured after a part of the skywalk in Dahisar West collapsed on Tuesday night.
The incident took place around 8:40 pm, when a portion of the skywalk opposite Dahisar West railway station in Maratha Colony, Dahisar collapsed. Two men, who were using the skywalk at the time to cross the road, fell after the pathway caved in.
While details regarding their identities are awaited, one of them is a 65-year-old senior citizen, who was seriously injured in the mishap.
The bystanders quickly called for an ambulance, following which both men were taken to Silverline Hospital, where they are still receiving treatment. Both are out of danger.
Although debris from the broken floor fell on the road, no other casualties were reported.
The 850 metre skywalk was built by the Mumbai Metropolitan Region Development Authority (MMRDA) and thrown open for public in 2011. However, within a year of its opening, the Rs 15 crore skywalk had started developing cracks on the pathway.
The skywalk is especially crowded during peak hours as it the only bridge connecting to the railway station.
Even though it has been repaired multiple times in the past six years, locals maintain that it has always remained damage-prone and a hazard for commuters.
Dahisar police has taken cognizance of the matter, but is yet to register a complaint. Statement from the concerned authorities is awaited and will be updated shortly.
Video:
This report has been covered in a shortened or 'Snippet' format to ensure the most important piece of information is relayed in the shortest possible time. If the story develops further or more relevant information becomes available, we will expand it into a full length article.