Shiv Sena likely to win BMC mayor elections as BJP opts-out of race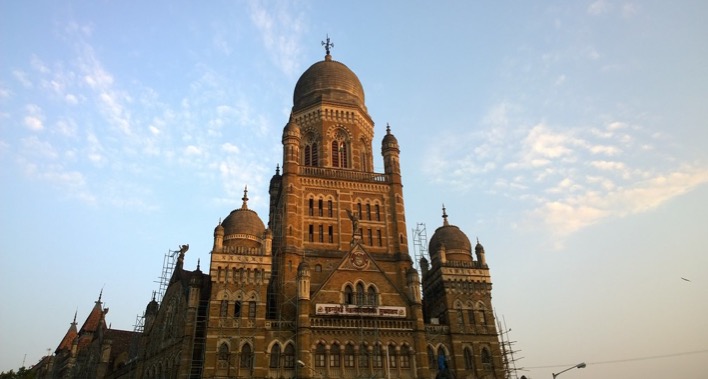 The Shiv Sena is set to win the upcoming mayoral elections in Mumbai with the BJP deciding to opt-out of the race citing lack of numbers and NCP poised to support Sena's candidate.
The Shiv Sena has 94 corporators, while the BJP, Congress, and NCP have 83, 29 and eight, respectively, in the 227-member Brihanmumbai Municipal Corporation (BMC).
The Sena recently severed ties with its former ally after the two parties failed to reach an agreement over the post of Chief Minister in the recently concluded Assembly Elections.
The BJP, maintaining it's "won't compromise ideology by joining opposition" stance, announced that it won't be contesting for the mayor's post this time around.
"BJP will not contest the Mumbai Mayor's elections as it is in minority in BMC and does not have the numbers. BJP does not want to have an alliance with any opposition party. In 2022, the party will have the numbers on its own," said BJP leader Ashish Shelar.
The NCP, which is likely to lend support to Shiv Sena to form a government in Maharashtra, will contest the Deputy Mayor's post and support Shiv Sena for the Mayor's post, its Mumbai President Nawab Malik said.
Meanwhile, Congress Mumbai president Eknath Gaikwad said that the party is prepared to field its candidate against Shiv Sena and is waiting for a nod from the high-command in Delhi.
"We are in opposition in the BMC. We have sorted out 3-4 candidates, out of which one will file the nomination for the Mayor's post. We have enough time as the deadline for nomination is 6 pm today," Gaikwad added.
The Shiv Sena has ruled the BMC, the country's richest civic body, for over two decades with the support of the BJP. Despite contesting the civic polls separately, the BJP had backed Shiv Sena's Vishwanath Mahadeshwar for the post in 2017.
However, political observers say Sena's candidate is set to win the mayoral polls as it is highly unlikely that the BJP will lend support to Congress.
There are 27 municipal bodies, including Mumbai, Thane, Pune, and Aurangabad, where Mayoral elections are due on November 22.