Update on ESIC Kamgar Hospital fire: 6 dead, around 150 rescued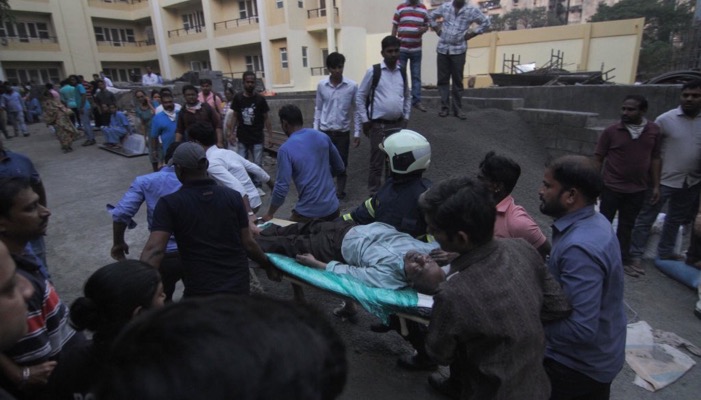 At least six persons, including a two-month old baby, died in the fire that broke out at the ESIC Kamgar Hospital in Andheri on Monday.
The fire broke out around 4 pm at the government-run hospital, located at MIDC Marol area in Andheri. It was escalated to a level IV blaze by 4:54 pm.
The blaze was brought under control after three hours of fire fighting with the help of ten fire engines and six water tankers.
As of 10 pm, the death toll in the mishap has risen to six, which includes a two-month old baby. The toll, officials say, may rise as search for trapped persons is still underway.
Meanwhile, close to 150 have been rescued by fire department officials and citizens.
The injured, including patients, have been shifted to Cooper Hospital, P Thackeray Trauma Hospital, Holy Spirit Hospital, Hiranandani Hospital, Siddharth Hospital and Seven Hills Hospital with the help of 16 ambulances.
"The cause of the fire is not known yet. Maharashtra Industrial Development Corporation (MIDC) is responsible for the fire audits, whether they carried out fire audits or not, that will be investigated," Mumbai Mayor V Mahadeshwar told news agency ANI.
According to MD Ogle, deputy chief fire officer at MIDC, the hospital had failed a recent fire safety test. During the audit, the fire department had reportedly found that the sprinkle and detection system at the premises were not in line with provisions.
Disaster Management Department Fire In ESIC Hospital Building,Andheri East Date: 17.12.2018.@CPMumbaiPolice @MCGM_BMC pic.twitter.com/ClKqwHAA09

— Disaster Management Department (MCGM) (@DisasterMgmtBMC) December 17, 2018