Video of CM's wife Amruta Fadnavis ignoring security instructions, risking life for 'selfie' goes viral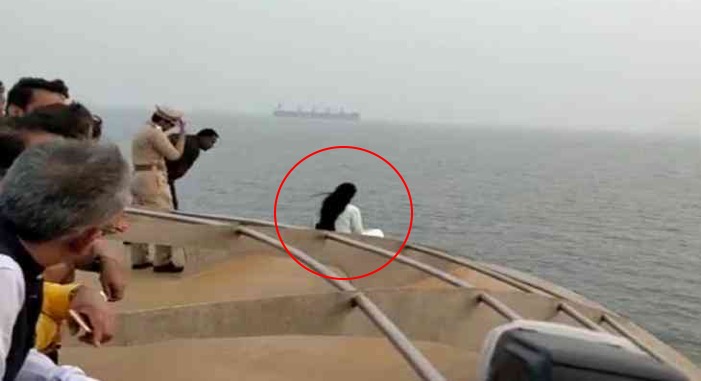 Amruta Fadnavis, the wife of Maharashtra Chief Minister Devendra Fadnavis, courted controversy after a video of her ignoring safety instructions and clicking a selfie at the edge of India's first cruise liner 'Angriya' went viral on Sunday.
The video of the incident shows Mrs. Fadnavis ignoring police warnings and crossing the safety zone to sit close to the edge of the railing – all for clicking a selfie.
Later, a policemen can be seen crossing the barricade and speaking to the security personnel, who then asks her to return to the deck.
The video of the incident was widely shared on social media and went viral in no time. It drew strong criticism from netizens, who slammed the CM's wife for the dangerous stunt and setting a wrong example for youngsters.
Mrs. Fadnavis' actions take further precedence amid the rise the number of selfie deaths in the country.
Incidentally, over 250 people worldwide have died while taking selfies between 2011 and 2017 according to a study published in the Journal of Family Medicine and Primary Care – with India accounting for more than half (159) of the deaths.
Amruta Fadnavis was on board the cruise liner along with her husband and Union Transport Minister Nitin Gadkari for its inaugural trip last Saturday. Devendra Fadnavis and Nitin Gadkari flagged off India's first domestic luxury cruise on October 20.
The cruise, running between Mumbai and Goa, has six decks and 104 cabins. It can accommodate 399 passengers at a time. The tickets of the cruise, which will run four times a week except during monsoons, are priced between Rs. 7,000 and Rs. 12,000.