Viral Now: Unverified video shows hawkers using gutters for storing vegetables in Vakola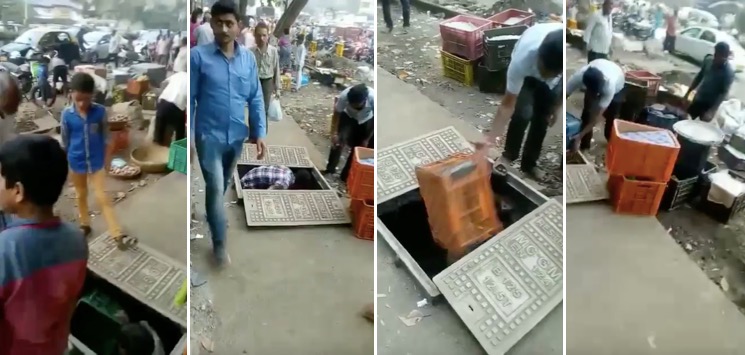 A shocking video depicting a group of hawkers using open gutters as storage space for hiding vegetables in Mumbai's Vakola area is going viral on social media.
The video has been circulating on social media since Thursday evening. However, as of publishing this, it is not known who shot the video or when it was shot.
The footage, allegedly shot at Jawaharlal Nehru Road in Vakola, Santacruz East, shows a group of vegetable sellers removing their goods from the gutters located adjacent to the footpath.
The video, believed to have been shot by a bystander, shows a person entering the gutter with an open cover and handing crates to others standing on the ground.
In most cases, hawkers that operate illegally find spots in the vicinity where they can dump their goods to prevent seizure in case of a raid by Brihanmumbai Municipal Corporation (BMC) officials.
In recent months, political parties have also taken it upon themselves to rid the city of illegal hawkers.
While the authenticity of the video is still questionable, since the source is not unknown, it does raise questions about the hygiene of items purchased from the streets. Blocking the gutter itself, is another concern.
Meanwhile, BMC officials have been notified about the video and are expected to visit the spot to confirm the veracity of actions seen in the video. Additional details about the same will be added as they become available.
Meanwhile, here's the video that is going viral on WhatsApp and other social media platforms like Facebook and Twitter.
Video: