Work on new bridge in place of Hancock one begins, to be ready by 2019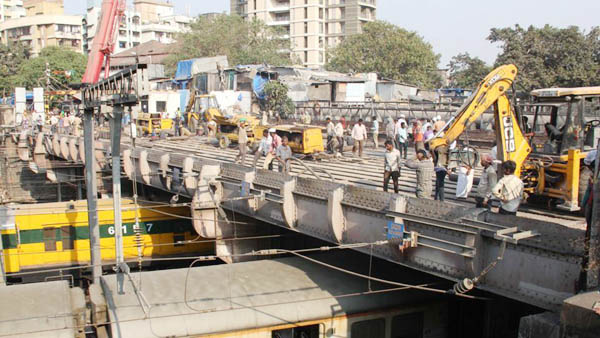 Two years after the British-era Hancock bridge between Sandhurst Road and Byculla was dismantled, work on a new replacement bridge started on Monday.
The bridge, connecting Mazgaon and Umerkahdi areas, would be completed in a span of 19 months and would cost Rs 52 crores to build.
Hancock bridge, over 136 years old, was dismantled in November 2016 because its low height was creating problems during the conversion of Central Railways electric traction from Direct Current to Alternating Current.
Speaking about the new bridge, Chief engineer (bridges) Shitalaprasad Kori told news agency PTI that it would be longer and wider than the dismantled one.
"It will cost Rs 52 crore and will have a length of 64.6 metres. Its approaches will be 27.45 metres wide while the part above the railway tracks would be 30.8 metres wide. The completion time is 19 months including the monsoons," he said.
Mumbai Mayor Vishwanath Mahadeshwar laid the foundation for the bridge yesterday. The structure is being built by civil engineering firm Sai Projects.
Work on Hancock Bridge started today after delay of 2 years #mumbai #MumbaiNews #mumbaitraffic #today pic.twitter.com/ex3a8Ng4dA

— Tanvi Deshpande (@Tanvi_MIRROR) February 26, 2018
The construction of the replacement bridge was first delayed after BMC floated tenders without incorporating the Goods & Services Tax (GST) component. The second time, the contract was awarded to J Kumar Infra, which was named in the BMC's road scam.
The decision was marred in controversy, following which an activist filed a Public Interest Litigation(PIL) in Bombay High Court challenging the decision to award the contract to a tainted firm.
Finally, in September last year, the state government asked the BMC to re-invite tenders for the third time as tenders issued before August 22 did not include the GST component in the final costing, rendering them obsolete.