Alert: The BSNL 'free 4G for a year' offer is a WhatsApp SCAM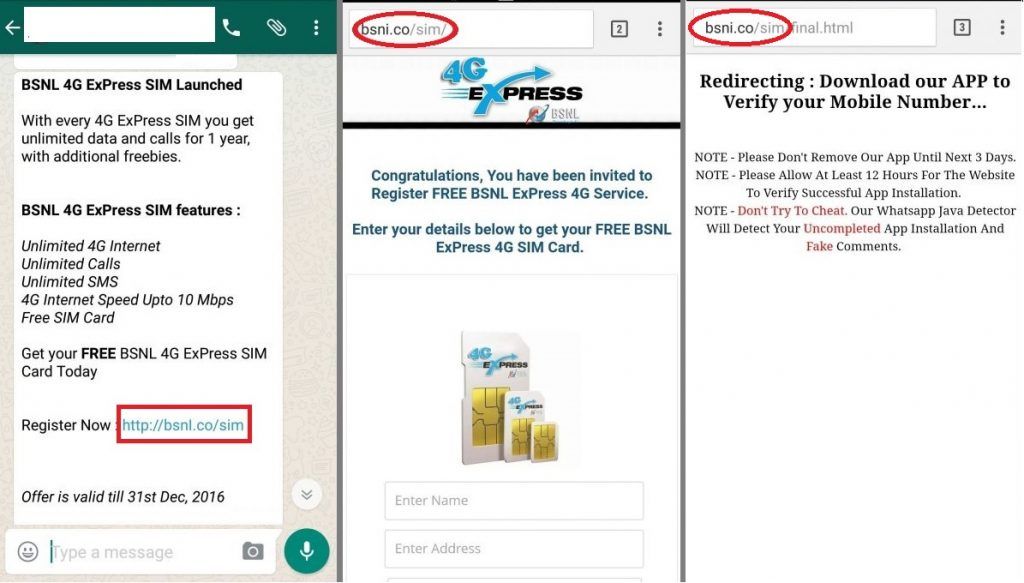 If you have recently received a WhatsApp message claiming 'BSNL is offering free 4G unlimited data and voice calls for a period of one year', now might be a good time to learn that the message is nothing more than a scam.
For one, there is no official declaration from BSNL about any such offer. And second, if you click on the link, which we don't recommend you do, you will be made to fill quite a lot of personal information about yourself before you get the 'advertised' offer.
By the end of it, you would have given the scammers plenty of information about yourself, making you susceptible to anything from annoying marketing calls to identity theft.
The Premise:
Since Reliance Jio entered the market with its 'free for all' offers, telecom providers have been going out of their way to retain users by offering similar deals and offers.
While no one has announced an offer exactly like Jio's, the cut throat competition is sufficient for scammers to leverage and fool people into thinking their existing provider has come up with an offer which is equally good, if not better.
And since no one wants to pay for something that could potentially be free, the chances of people trying to avail these offers is generally high.
This particular message is just one example which has gone viral recently. There might have been others in the past, and many might follow later.
The Message:
The message in question, which is being circulated via messaging platform WhatsApp, reads:
"BSNL 4G ExPress SIM Launched. With every 4G ExPress SIM you get unlimited data and calls for 1 year, with additional freebies. BSNL 4G ExPress SIM features: Unlimited 4G Internet, unlimited calls, unlimited SMS, 4G internet speed upto 10 Mbps and free SIM card. Get your FREE BSNL 4G ExPress SIM Card Today. Offer is valid till 31st Dec, 2016. Register Now : http://bsnI.co/express"
The Catch:
At first glance, the message seems legitimate. Especially the website address at the end. However, if one looks carefully, it's easy to see that the scammer has replaced the 'L' of BSNL with a capital 'I'.
Since website addresses are case insensitive, it doesn't matter whether it's written in capital or small letters. The scammers have obviously taken this fact into consideration while sharing the URL in the message.
The Scam:
Here's what happens after one clicks the website address in the message:
* The user is directed to a fake website with a BSNL logo.
* The site prompts the user to enter his name, address, phone number and state.
* After entering the information, the plan details are shown to validate authenticity.
* The site then asks the user to generate a barcode and verify address by forwarding the message to 10 friends or groups.
By this stage, there is a possibility that users might figure out that the offer is nothing more than a sham.
But, by now, the scammers have already been successful in getting the user's personal information.
This information is compiled by data mining companies and is eventually sold to buyers in the form of lead databases. In addition, the site also displays apps and other prompts, which generate revenue for the owner.
The Real Danger:
If the user closes the website before forwarding the message to others, he only risks exposing his personal information.
However, if the message is actually forwarded to 10 people (the site counts), then the user is asked to install an app from the Google Play Store for 'verifying the phone number'. The site also prompts the user to keep the app installed for a period of 3 days.
This is where the scam takes a more menacing turn.
Any app installed on a smartphone requires a certain set of permissions from the user, before it can work. For example, a legitimate app like WhatsApp requires access to a user's contact book to show him a list of friends who are using the same messaging platform.
Since most users grant all permissions to apps out of habit, a dubious one can ask for permission to access contacts, gallery, caller log etc and send it to the scammer over the internet without the user's knowledge.
Even in this case, once the app is downloaded, it does not do anything. But since it's installed on the user's phone, which is most likely connected to the internet, there's no saying if and which data was stolen.
What Now:
If you have been scammed, or know someone who has, report it to the authorities as soon as you have a proof of foul play.
If you never got this particular message or ignored it when you did, great. However, it's imperative that you inform others who are likely to fall for such scam. According to surveys, people under 18 or over 40 are more likely to fall victim to such scams.
Most importantly, in case someone forwards this message to you, they are on the verge of falling prey to the scam, so try to alert them at the earliest possible.