#BoycottChineseProducts trends after China blocks India's bid to list JeM chief as 'global terrorist'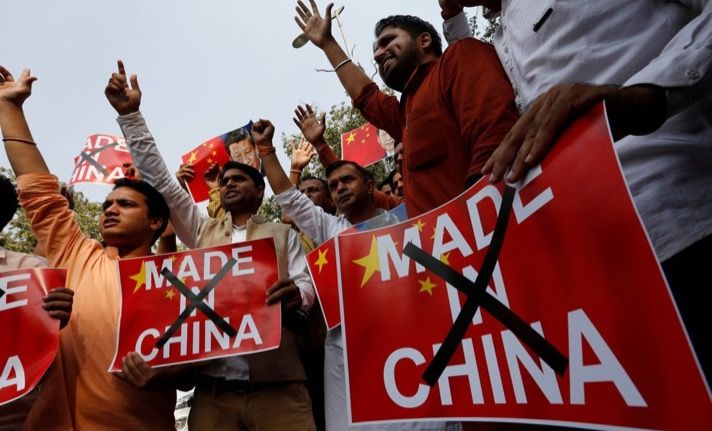 Scores of netizens took to social media to call for a boycott of Chinese products after China blocked India's attempt to designate Pakistan-based terror group Jaish-e-Mohammed's chief Masood Azhar as a "global terrorist".
China's 'hold' on Masood Azhar's designation
On Wednesday, China for the fourth time blocked a bid in the United Nations (UN) Security Council to designate Masood Azhar as a "global terrorist" by putting a technical hold on the proposal.
The proposal to designate Azhar under the 1267 Al Qaeda Sanctions Committee of the UN Security Council was moved by France, the UK and US on February 27, days after a suicide bomber of the JeM killed 40 CRPF soldiers in J&K Pulwama.
The Al Qaeda Sanctions Committee members had 10 working days to raise any objections to the proposal. The no-objection period deadline was scheduled to end at 3.00 pm local time (New York) Wednesday, (12.30 am IST Thursday).
However, just before the deadline, China put a "technical hold" on the proposal, seeking for "more time to examine" the proposal. The technical hold is valid for up to six months and it can be again extended by up to three months.
The proposal was the fourth such bid at the UN in the last 10 years to list Azhar as a global terrorist, which entails an assets freeze, travel ban and arms embargo.
Call for #BoycottChineseProducts
As soon as news of China's action broke, the hashtag #BoycottChineseProducts started trending on Twitter in India, with several users lambasting the neighbouring country for 'supporting terrorism' by failing to give credence to JeM's terrorist activities.
China is one of India's largest trading partners. India imports a plethora of goods, ranging from consumer goods to electronics, furniture to toys and pesticides to heavy machinery from China.
While every netizen had their own rationale for boycotting Chinese-made products, the prevailing sentiment on social media was of Indians filling the pockets of those who directly or indirectly enable and propagate terrorism by buying their products.
I uninstalled #TikTok & I urge every Nationalist Indian to #BoycottChineseProducts for good and teach these Chinese Traitors a lesson for life pic.twitter.com/QVk08F5b3X

— रुपेश?????? (@Rajpoot_Roopesh) March 14, 2019
Wy we Indian don't undrstnd tht fudu China is directly proportional to fudu Pakistan…nw it's high time to realise nd show our patriotism twrds Bharat Mata?? by boycotting Chinese prdcts..This is my spath to nt use any Chinese product in my entire life..#BoycottChineseProducts pic.twitter.com/3D0UzndArG

— Lokendra.rathore (@lokssrathore) March 14, 2019
By again stalling India's move to declare Masood Azhar as GLOBAL TERRОRIST at UN, China has openly shown it supports terrогism. #BoycottChineseProducts #CKMKB pic.twitter.com/hrdbyQ746H

— Rosy (@rose_k01) March 14, 2019
China blocks India's bid to designate JeM Chief Masood Azhar as a global terrorist in the United Nations Security Council 1267 list.#BoycottChina #BoycottChineseProducts pic.twitter.com/zntllEKb6Y

— Batukdhar Dubey (@batukdhardubey) March 14, 2019
It's all biased situation that China will block Indians move in UNSC for banning masood so all Indians must boycott entire Chinese products its the only way to teach them #BoycottChina #BoycottChineseProducts pic.twitter.com/FWDpS1k7pT

— Divakar R Divu (@r_divu) March 14, 2019
The acknowledgement of a single possibility can change everything.#BoycottChina #BoycottChineseProducts pic.twitter.com/Wzxi8SUCmA

— Hasi Johari?? (@hasiaf_johari) March 14, 2019
Why we import $80 billion worth of product from China ?
We should boycott this and #BoycottChineseProducts #BoycottChina@narendramodi #boycott #China #ChinaBacksTerror pic.twitter.com/V8felzl8kH

— Priyank Dev ?? (@priyank_dev) March 13, 2019