In Picture: Leaked image of 'new' Rs 1000 note goes viral. But is it real?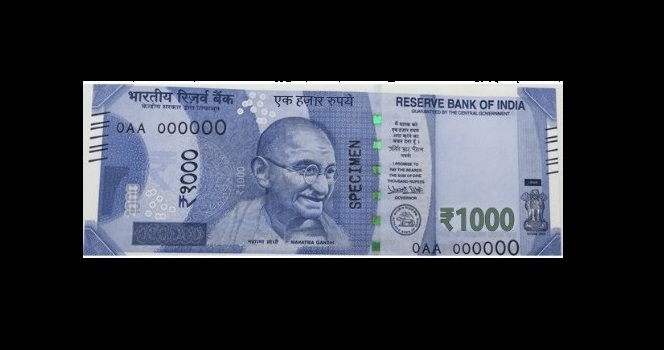 A week before the government demonetized Rs 500 and Rs 1000 notes, an image showing a brand new Rs 2000 note had leaked on social media.
The speculation around the leaked picture finally ended after the Reserve Bank of India (RBI) unveiled the new Rs 2000 note following Prime Minister Narendra Modi's announcement.
For once, the rumours were true and the leaked image turned out to be real.
Three weeks into demonetization, a new image, this time of a Rs 1000 note, is now going viral on the internet.
Incidentally, the Finance Ministry had earlier denied plans to introduce new Rs 1000 notes. A source in the ministry, who we contacted to confirm if the image was real, chose not to comment.
Digging through the government's notifications and archives also proved futile.
As a result, as of December 1, there is no shred of evidence which proves that the image is authentic.
Having said that, if the government is indeed planning to introduce a new Rs 1000 note, its likely that we will have to wait for an official announcement from the centre. Before that, there's very little that can be done to verify its authenticity.
Meanwhile, since the note's overall design bears a strong resemblance to the new Rs 2000 note, social media is rife with speculations and debates about whether the note is real or fake.
Unsurprisingly, many have credited the source of the image of WhatsApp, a popular platform among rumour mongers.
More recently, the centre also received flak for infusing Rs 2000 notes first, which people are still unwilling to exchange due to the shortage of lower denomination notes.
Even the demand for Rs 500 notes was not being met, forcing the RBI to take onus of the printing in order to ensure there is adequate supply to banks.
While the long term economic impact of introducing a 1000 rupee note is uncertain, it might help alleviate current exchange issues till the time the supply of Rs 500 notes is increased and people start accepting Rs 2000 notes.
Whether the government decides to go down that route, however, remains to be seen.
One of the tweets with the image:
Is it the New 1000 Rupee Note @narendramodi @RBI ? Got to see in one of the posts on twitter … #RjAlok pic.twitter.com/qK98Ul3wNR

— RJ ALOK (@OYERJALOK) December 1, 2016