Ghatkopar Police comes to the rescue of 250 farmer families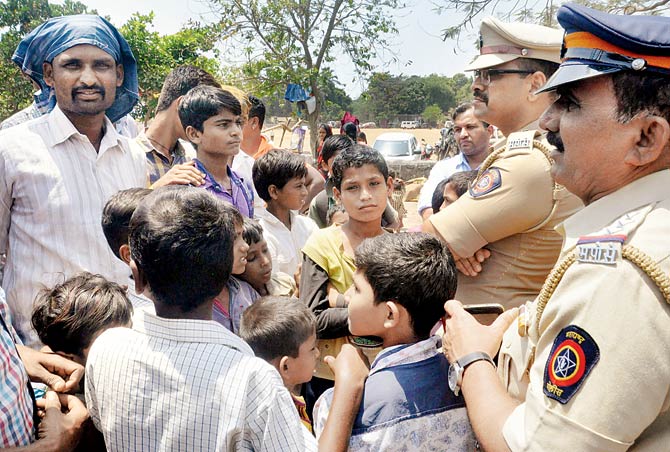 Maharashtra's drought has left farmers with little choice. Since cultivation is no longer an option, farmers are either taking odd jobs to feed their family or relying on government's assistance.
Around 250-300 such migrants had fled their drought hit villages to seek asylum in Mumbai 2 months back. But at a time when the city itself is facing a water scarcity, the families are facing constant difficulties in sourcing food and water. To make things worse, even the locals fought and extorted from them. The result – a daily struggle for the families to salvage a meal and quench their thirst.
But things changed for the better when Ghatkopar Police visited them on Saturday. The Police had learnt about the scuffles between locals and migrants and decided to investigate pro-actively.
After reaching the site, the Police saw the abysmal condition of the families and decided to call for two water tankers. The migrants, for the first time since their arrival two months back, managed to drink water to their hearts content. They were touched by the Police's humanitarian gesture and thanked them profusely for their help.
Later, even Political parties came forth to help. In an attempt to gain some Political leverage, food and water supplies started making way to the farmer's families. Even the locals stopped harassing them.
While the families are grateful for all the help they are getting, they haven't forgotten that it was the Police who came to their aid when no one else would. Even today, beat marshals regularly patrol the area to ensure the farmers' families aren't troubled in any way.
Hats off to DCP (Zone VII) Dr Vinay Kumar Rathod and his team for helping the farmer's families at their time of need.