3 parked ambulances gutted inside Thane hospital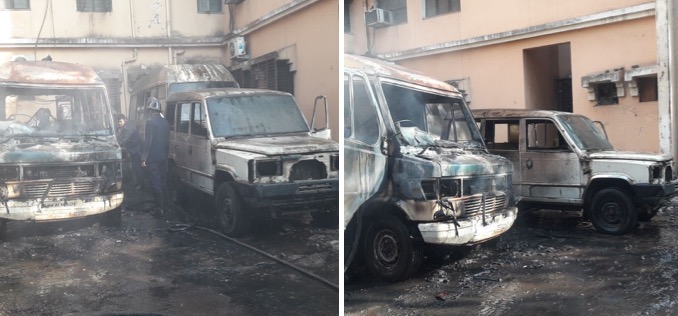 At least four vehicles, including three ambulances, parked in the premises of the Thane civil hospital were destroyed in a fire on Sunday evening.
Santosh Kadam, chief of the Regional Disaster Management Cell of the Thane Municipal Corporation, said that a fire broke out around 4 pm in one of the vehicles and it soon engulfed three ambulances and a jeep.
He informed that the vehicles were parked near the ICU, adding that the cause of the fire was being probed and ownership details of the vehicles could not be ascertained as they were completely burnt down.
Four fire engines were pressed into service and the fire was doused after roughly 30 minutes of firefighting.
Around 15 patients were evacuated from the adjacent building and temporarily shifted as a precautionary measure. Fortunately, no casualties were reported.
The relatives of some patients, who were on the spot when the incident took place, alleged that the fire extinguishers at the hospital had 'expired' as they were well beyond their refill date.
The hospital authorities are yet to respond to these allegations. Meanwhile, they have tried to downplay the incident by claiming that the ambulances were not in use.