Army to unveil Elphinstone FOB on Jan 27, make it operational with Currey Road FOB by Feb end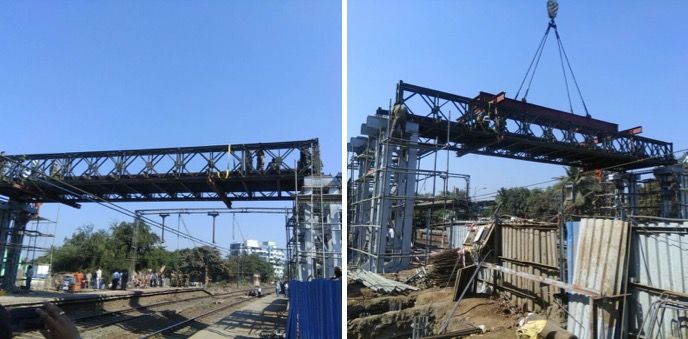 Indian Army officials on Thursday said the foot-over bridges (FOBs) at Mumbai's Elphinstone Road and Currey Road stations would be completed and made operational by the end of February.
The FOB at Ambivali station, however, will be commissioned by January 31.
The Army was called in to build the bridges after a stampede on a narrow FOB at Elphinstone Road station on September 29 killed 23 people.
"After we got the work of all three bridges, we had sought a period of three months to get the FOBs operational," Brigadier Dhiraj Mohan, Commandant, Bombay Engineering Group and Centre, which was asked to build three overbridges, told reporters.
He added that of the three month period, two months was for actual construction and one month was for planning and things like soil testing, designing, and alignment with the railways.
"Since the railways and the Army are both enormous departments, we took about 15-20 days time to understand each others working. After that, work began on the FOBs on a war-footing," said Mohan.
A prototype of the Elphinstone Road FOB was put up for display at the BEG. It will be unveiled this Saturday, January 27.
"The actual bridge construction started on December 15. As per our commitment, the Ambivali bridge will be operational by the end of this month as 90 percent work on it is complete," Mohan informed.
He said that 80 percent of work on the Elphinstone Road FOB would be completed by January 28.
"As far as the FOB at Currey Road is concerned, there was a delay in handing over some land to us which we got only on December 10. By February 4, the bridge will be launched and will be commissioned two weeks after that," he said.
He added that 60 percent of work on the Currey Road FOB was complete and though the commitment was to complete it by January 31, it took time as it was decided that work would be done only on Sundays to avoid inconveniencing commuters.