4 dead, 30 injured in bus accident on old Mumbai-Pune highway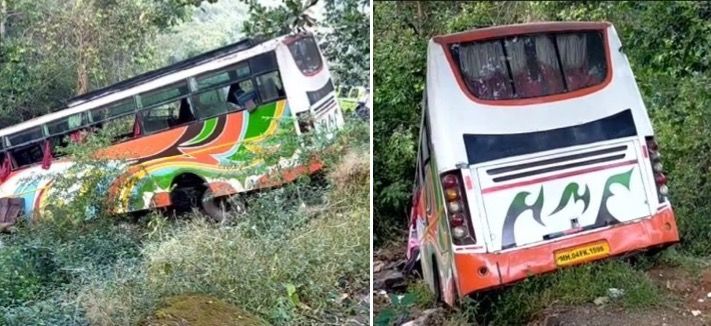 At least four people lost their lives and 30 others were injured after the bus they were travelling in met with an accident on the old Mumbai-Pune highway early morning on Monday.
The incident took place around 5 am today, when the bus (MH-04-FK-1599) was heading towards Mumbai.
According to preliminary information, the bus driver lost control of the vehicle near Bhor ghat, causing it to crash near a gorge. Fortunately, the vehicle did not completely fall inside.
Officials soon reached the spot and rushed injured passengers to nearby passengers.
Four people – identified as Sachin Thorat, Sneha Janardan Patil, Janardan Patil, and Sanjay Shivaji Rakshay – died in the mishap. Meanwhile, 30 others were injured.
Among the 30 injured passengers, around a dozen have sustained serious injuries while others escaped with minor cuts and bruises.
Further details are awaited.