Fire breaks out at Deonar dumping ground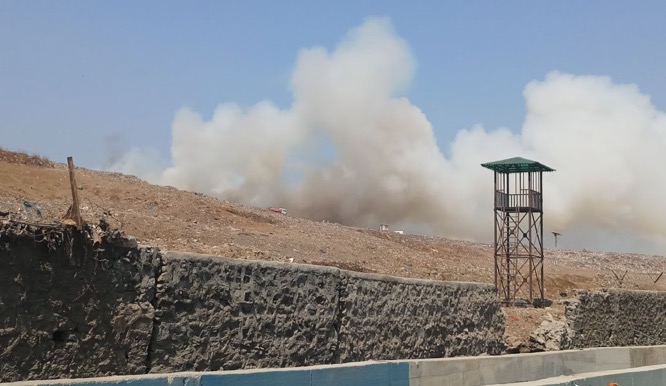 Barely two hours after a fire broke out at Maharashtra Nagar compound, another blaze was reported at Mumbai's Deonar dumping ground on Monday afternoon.
Details:
Location: The fire broke out at Deonar Dumping Ground located on the Kachra Depot Road at Nirankar Nagar, Shivaji Nagar.
Time: The mishap took place around 3 pm, following which fire department was alerted.
Severity: Officials from the fire department have reached the spot with two fire tenders and one water tanker.
Casualties & damage: No casualties have been reported as of publishing this report.
Current status: The area near the edge of the ground has been engulfed with smoke, even as fire officials continue to douse the blaze. Further details are awaited.
Cause of fire: The cause of the fire is not yet known.
The Deonar incident took place less two hours after a similar blaze had broke out on the ground floor of a 10,000 sq.ft godown in Maharashtra Nagar, Govandi. At least 8 fire tenders and 4 water tankers were pressed into service to control the blaze.
The compound is located around 2 km from the Deonar landfill, India's largest and oldest dumping ground.
Back in January 2016, a massive blaze at Deonar dumping ground had caused nearby areas to get covered in a thick cloud of smoke, visible via overhead satellites, forcing the BMC to issue an advisory and shut down over 50 civic schools in the vicinity for two days.
The civic body is now working towards converting the landfill to an energy plat that will be capably of processing 600 tonnes of waste a day in order to generate 10 MV of electricity daily.