Mumbai-based diamond merchant renounces all to become Jain monk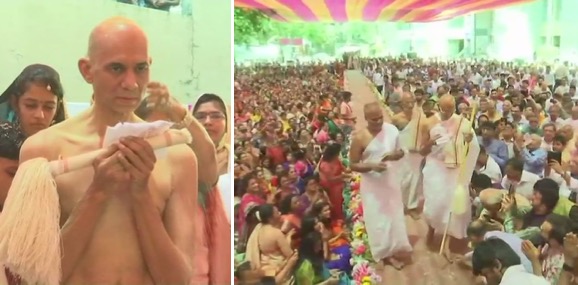 A 59-year-old Mumbai-based diamond merchant, Yatrik Zaveri, on Sunday took 'diksha' (initiation) to become a Jain monk.
Yatrik is a partner in Motilal Dahyabhai Zaveri & Sons, one of the oldest diamond firms in Mumbai.
The diamond merchant, who chose to don the whites of a monk in the presence of family and friends, now wants to earn knowledge and serve society.
"He has done a lot for himself, now he wants to serve society," one of his relatives told ANI.
The diksha took place in Walkeshwar area of Mumbai. The religious ceremonies including his 'varshitap' procession took place on Saturday.
Yatrik was born in Gujarat's Ahmedabad and joined the family business in his late teens. He was drawn to the teachings of his guru Labdhichandrasagar Maharaj and decided to give up family and society to become a monk.
Last week, 24-year-old chartered accountant Mokshesh Sheth from Mumbai renounced his career and family business worth over Rs 100 crore to become a Jain monk.
A day prior, 12-year-old Bhavya Shah from Surat also followed the same path, renouncing his diamond merchant father's family business.
#Surat: Family celebrates as 12-year-old Bhavya Shah will become a Jain monk at a ceremony tomorrow, says, 'I'm happy to take the path of truth shown by God.' His father, a diamond merchant, says, 'Our family is extremely happy, my daughter also did the same at the age of 12.' pic.twitter.com/4G80CAWeRL

— ANI (@ANI) April 18, 2018