On the last day of 2018, petrol price stands at 12-month low; diesel dips below 66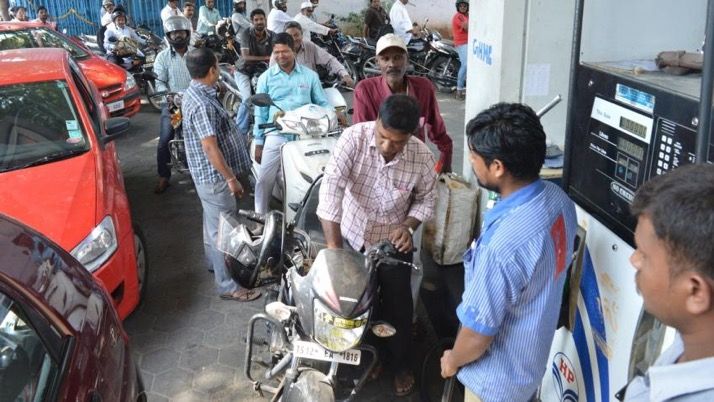 Fuel prices continued to fall on the last day of the year, with the price of petrol in Mumbai reaching its lowest ever point for the year 2018 on Monday.
According to a price notification issued by state-owned fuel retailers, petrol in Mumbai is retailing 20 paise lower at Rs 74.47 per litre and diesel at Rs 65.76 after a decrease of 25 paise today.
At Rs 74.47, the price of petrol in Mumbai is at its lowest for the year 2018. The lowest price for diesel, however, was right at the beginning of the year, when it stood at Rs 63.35.
Meanwhile, petrol is being sold at Rs 68.84 per litre in New Delhi after a decrease of 20 paise, and diesel at Rs 62.86 per litre after a decrease of 23 paise. Chennai and Kolkata also witnessed a similar decline in rates today.
The cost of both petrol and diesel touched record highs of Rs 91.34 and Rs 80.10 respectively on October 4 in Mumbai amid the rise in international crude prices.
The crude oil price, which stood at $86 per barrel mark on October 4, has gradually fallen since then. The per barrel price dipped to $52.80 today, a stark contrast to the prevalent price three months back.
Since then, the Centre and several states have cut taxes on fuel to reduce the burden on consumers. The fall in international crude prices and appreciation of the rupee have given further impetus to the falling fuel rates.