Alert cops seize drugs, arms worth over 3 crore ahead of New Year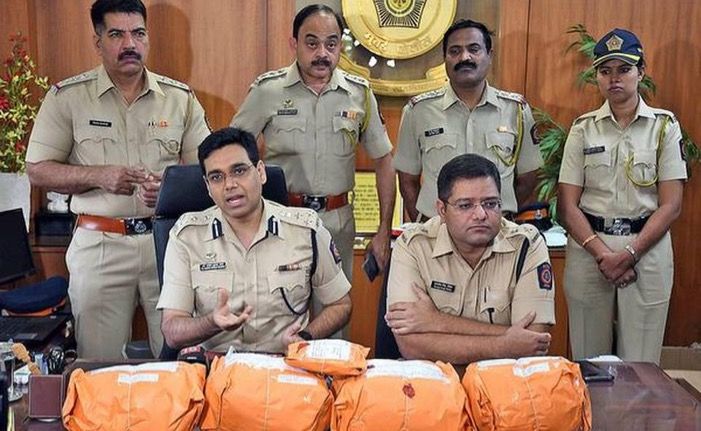 A team of alert cops from Mumbai and Thane seized a large consignment of drugs and arms bound for the metropolitan ahead of New Year's Eve on Monday.
In the first case, Thane Police arrested two arms dealers in Amravati who were planning to come to Mumbai and sell a few locally manufactured pistols.
A team of Thane Police lay in wait for some suspects at the Hotel Sheetal Lodging and Pancham Restaurant where the transaction was expected to take place on Sunday.
They managed to catch red-handed two persons, Shoaib Issak Sheikh (21), who is unemployed, and a carpenter, Rahim Habib Sheikh (32) at the hotel.
Police also seized a bag containing 10 locally manufactured steel pistols and 40 live cartridges and mobile phones from them besides other stuff totally valued at over Rs 300,000.
They were produced before a court and remanded to police custody till January 7. Further probe to trace the destination of the guns in Mumbai is underway.
In the second case, Amboli Police nabbed two drug dealers and seized Ephedrine, a banned drug used for improving performance and weight control, worth over Rs 3.04 crore from them on Monday.
Following a tip-off, a team led by inspector Daya Nayak laid a trap and waited on Agarwal street in Andheri's Amboli area.
The accused – Mohammed Ismail Gulam Hussain (45) and Dayanand Manik Muddanar (32) – were arrested around 2:40 am yesterday. They had come from Hyderabad for the deal.
The 20.3 kg of Ephedrine seized was intended for sale during New Year celebrations, the duo confessed, adding that it was to be mixed with juice or water and sold to customers known to the management of select clubs and pubs.