Renaming of Elphinstone Road station to Prabhadevi comes into effect today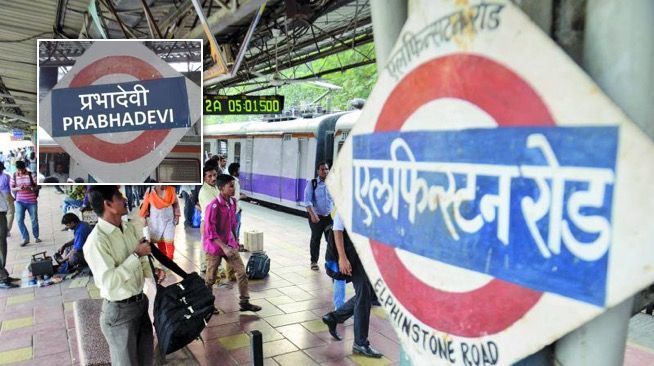 The change in the name of suburban Elphinstone station on the Western Railway to Prabhadevi came into effect from midnight on Tuesday, a year after the change was approved by the centre.
According to an official statement from Western Railway, necessary changes were being made to the station boards, indicators and PA system for the benefit of passengers.
The new station code for Prabhadevi will be PBHD.
Shiv Sena was the first party to demand that suburban stations with 'colonial' names in Mumbai be renamed.
Sena's demand received the support of all the major parties of the state and the Maharashtra Assembly unanimously passed a resolution to this effect during the winter session in Nagpur on December 16, 2016.
The station, which was named after Lord Elphinstone, the Governor of Bombay Presidency from 1853 to 1860, has now been renamed in honour of a local deity.
The name change came into effect months after 23 people were killed and over 50 injured in a rush-hour stampede at the foot-over bridge in September last year.
The name of Elphinstone Road station on Mumbai suburban section of WR will be changed to Prabhadevi station from 24.00 hrs of midnight of 18th July 2018 ie from 19th July 2018.The station code of Prabhadevi station will be PBHD. #WRUpdates pic.twitter.com/KOhKiACpsD

— Western Railway (@WesternRly) July 17, 2018
---
Update
The name change was aptly documented by noted rail historian and author Rajendra B. Aklekar on Twitter. The following tweets chronicle the change.
Farewell to Lord Elphinstone. The first signage board of the station comes down. Station name to be changed to Prabhadevi tonight. @mumbaiheritage pic.twitter.com/oHbr0pUGOR

— Rajendra B. Aklekar (@rajtoday) July 18, 2018
The first board of the new station Prabhadevi is up. Formerly Elphinstone station on @WesternRly @mumbaiheritage @BharGo8 pic.twitter.com/nXEVYOK1KF

— Rajendra B. Aklekar (@rajtoday) July 18, 2018
The new station board of Prabhadevi has again been covered up so that local Member of Parliament @shewale_rahul who had demanded the name change can inaugurate it at midnight. pic.twitter.com/BLr3aDcCjb

— Rajendra B. Aklekar (@rajtoday) July 18, 2018
One of the last few Platform Tickets from Elphinstone Road station before the software change to Prabhadevi station. @mumbaiheritage pic.twitter.com/19YzCGLcXK

— Rajendra B. Aklekar (@rajtoday) July 18, 2018
So new station name Prabhadevi on @WesternRly now ready for inauguration by @shewale_rahul R.I.P Lord Elphinstone. @mumbaiheritage pic.twitter.com/GtMWs12akW

— Rajendra B. Aklekar (@rajtoday) July 18, 2018