Shiv Sena workers heckle, raise slogans against Fadnavis at Bal Thackeray memorial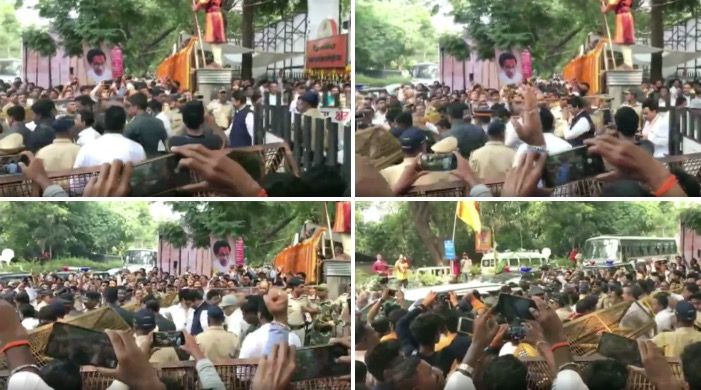 Shiv Sena workers heckled and raised slogans against former Maharashtra chief minister Devendra Fadnavis as he was leaving Shivaji Park on Sunday after paying tributes to Balasaheb Thackeray on his seventh death anniversary.
Some Sena workers standing close to the former CM's convoy shouted slogans like "Sarkar kunauchi? Shiv Sena chi" (Whose government? Shiv Sena's), along with the traditional "Chhatrapati Shivaji Maharaj ki jai" war cry at Fadnavis as he was leaving.
Fadnavis, whose entourage included several other senior BJP leaders, moved on to their vehicles without reacting to the crowd. Earlier in the day, Fadnavis had tweeted a tribute video containing some of the late Sena patriarch's rousing speeches.
#WATCH Maharashtra: Slogan of "Sarkar kunauchi? Shiv Sena chi" (Whose government? Shiv Sena's) raised by Shiv Sena workers, when BJP leader Devendra Fadnavis was leaving after paying tributes to Balasaheb Thackeray on his death anniversary today, in Mumbai. pic.twitter.com/AbsA5Gm1f5

— ANI (@ANI) November 17, 2019
Apart from other party leaders, NCP chief Sharad Pawar also paid his tributes to the Bal Thackeray.
The slogans came in the backdrop of the current political scenario in the state and now-soured relations between the former allies.
In the Assembly elections held last month, the BJP won 105 seats, followed by the Shiv Sena (56), the NCP (54) and the Congress (48) in the 288-member House.
Despite securing enough seats, the pre-poll alliance between the BJP and Shiv Sena fell through following a disagreement over power-sharing, with the Uddhav Thackeray-led party insisting on a rotational chief minister.
Amid the political stalemate, President's rule was imposed in the state last week after Governor Bhagat Singh Koshyari sent a report to the Centre, stating that the formation of a stable government was impossible in the current situation.