Tree falls on parked car near Bhadkamkar Hospital, Thane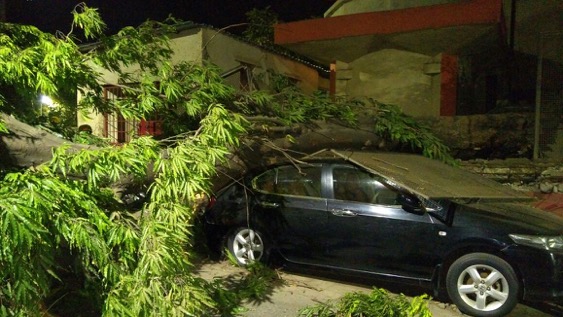 A four-wheeler parked at Kharkar Ali Road in Thane was crushed after a huge tree fell on it during the wee hours of Tuesday.
The incident took place around 3 am, when the Black Honda City (MH-03-BA-0303) was parked near Dr. Prakash P. Bhadkamkar Hospital, opposite Guru Krupa building, next to Police School at Kharkar Ali Road, Thane West.
The vehicle, registered to Prathmesh Banawali, was crushed under the weight of the tree. Fortunately, no casualties were reported in the mishap as the car was unoccupied at the time.
Officials from the local police department, regional disaster management cell (RDMC) and fire brigade reached the spot with an emergency tender and a Quick Response Vehicle (QRV) early morning today.
The tree was in the process of being removed as of publishing this report.
Thane Municipal Corporation (TMC) officials are yet to confirm the reason for the tree's collapse. Meanwhile, the surrounding area will likely be surveyed to ascertain if any other trees show signs of weakening and stand the risk of falling.