Video: Major fire breaks out in Kamathipura building, several injured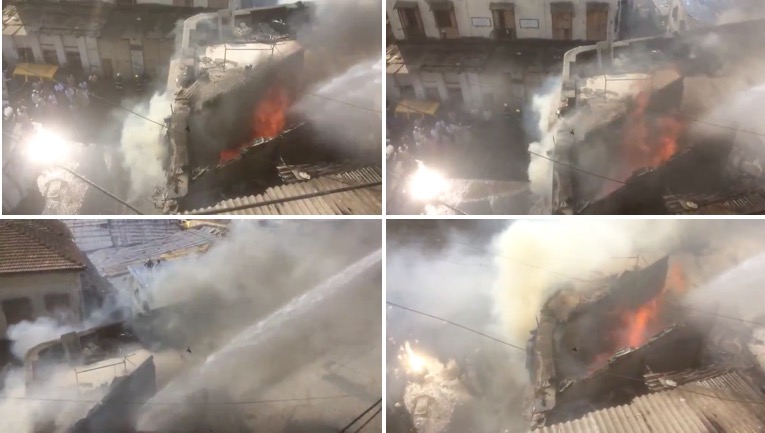 A major fire broke out in a commercial building in Mumbai's Kamathipura area on Monday morning.
The fire broke out around 9 am in China Building, located in Bagdadi Compound on R.S Nimkar Marg in Kamathipura near Nagpada.
Mumbai Fire Brigade was alerted about the mishap at 9:15 am and first responders arrived on the spot at 9:26 am. The fire call was escalated to Level-II immediately after their arrival. It was further escalated to Level-III at 10:08 am.
Fire fighting is still underway and officials have deployed 10 fire engines and 11 jumbo tankers to douse the flames.
According to an update from the fire department, the fire is confined to electric wiring, electric installation, household articles, leather godown on the first floor and cloths godown on the ground floor of the ground-plus-one storey commercial structure.
"Cracks were developed to the building. Some portion of building had collapsed. Building is evacuated. Fire fighting carried out from outside of the structure," officials said.
Meanwhile, at least five persons are reportedly injured in the blaze and admitted to nearby Nair Hospital for treatment. Of them, the condition of Mohan Ram (70) is said to be critical.
Other injured – identified as Adil Qureshi (20), Nisha Devi (32), Chandadevi (60) & Aniya (2) – are in a stable condition.
Further details are awaited.