Video: Snake found on CSMT-bound train in Mumbai, CR suspects 'mischief'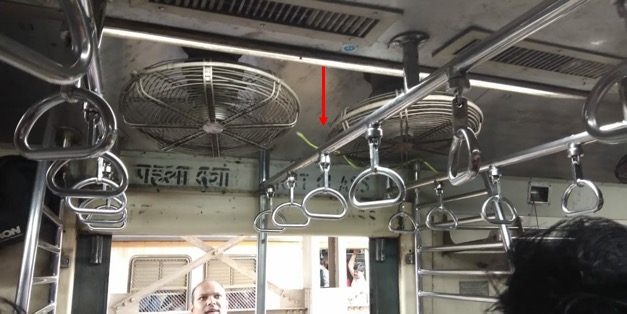 Commuters travelling on the early morning CSMT-bound local were in for a shock after a small snake was found clinging on the fan of one of the coaches on Thursday morning.
The reptile was found coiled on the fan of the first class coach of 8:33 am Titwala-CSMT slow train earlier today.
The panic-stricken commuters pulled the chain near Thane around 8:35 am, following which one of the passengers flung it outside the train with the help of a stick.
With the snake removed from the coach, the local continued onward its journey, albeit with a 10 minute delay.
ठाणे-सीएसएमटी लोकलच्या पंख्यात साप, प्रवाशांचा गोंधळ ठाण्यावरुन सीएसटीकडे जाणाऱ्या लोकलच्या डब्यात फॅनमध्ये साप दिसल्याने, काहीवेळ गोंधळाचं वातावरण होतं @eSakalUpdate @Central_Railway @drmmumbaicr @PiyushGoyalOffc @LocalPressCo #Thane #locals pic.twitter.com/ZcTkS4Ij67

— Santosh More (@Santosh72847062) August 2, 2018
According to preliminary information, the snake found on the local was a green vine snake, also known as the long-nosed whip snake.
It is mildly poisonous and typically feeds on frogs and lizards.
Snakes On A Train!!! This morning on 8:33am Titwala-CSMT morning train ?? #Mumbai @mid_day pic.twitter.com/YpMRbskmMW

— Rajendra B. Aklekar (@rajtoday) August 2, 2018
---
UPDATE (3:15 pm):
Official update from Central Railway CPRO Sunill Udasi on snake found in CSMT-bound local:
It's somebody's mischief. RPF is on the job to nab the culprit. Before the trip in question, this rake had already completed 2 trips since morning.
We are scanning all these viral videos and photographs to asertain from where exactly it emerged all of a sudden at such height. If required help of sarpmitras/snake catchers will also be taken to know the modus operandi.
Previous trips completed by the rake on which the snake was found:
Departure from Titwala: 04.32 am
Arrival at CSMT: 6:15 am
Departure from CSMT: 6:30 am
Arrival at Titwala: 8:33 am