After 16 day hike, fuel prices drop by 1 paisa on Wednesday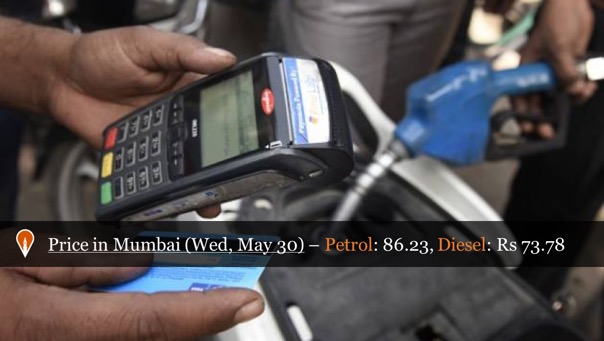 After 16 days of continuous hike in fuel prices, the cost of petrol and diesel took a slight dip on Wednesday.
Earlier today, the official website of Indian Oil Corporation (IOCL) showed that petrol prices were cut down to 60 paise in Delhi and 59 paise in Mumbai while diesel price went down by 56 paise in Delhi and 59 paise in Mumbai.
Effectively, the revised petrol prices in metropolitan cities were – Delhi: Rs 77.83 per litre; Mumbai: Rs 85.65; Kolkata: Rs 80.47 and Chennai: Rs 80.80.
Meanwhile, the cost of diesel per litre as on Wednesday stood at Rs 68.75 per litre in Delhi, Rs 73.20 per litre in Mumbai, Rs. 71.30 in Kolkata and Rs. 72.58 in Chennai.
The cheer among consumers over petrol and diesel price cut, however, was short-lived as the reduction was down to an error on IOCL's website. The actual reduction in price was just 1 paisa.
With this, the current price of petrol stood at Rs 78.42 in Delhi and Rs 86.23 in Mumbai while diesel stood at Rs 69.30 in Delhi and Rs 73.78 in Mumbai. In Kolkata and Chennai, the revised price of petrol is Rs 71.85 and Rs 73.17 respectively.
The continuous and significant fuel price hike has caused major inconvenience and disappointment among the general public for the last 16th days.
Amid the growing resentment and opposition, people across the country have condemned the Centre for the continuous increase in the fuel prices.
In response, Union Petroleum and Natural Gas Minister Dharmendra Pradhan earlier assured the public that the government will soon take out a solution to tackle the situation.
He further pointed out that less production of oil in the Organization of the Petroleum Exporting Countries (OPEC) and hike in crude oil price in the international market are some of the factors affecting the fuel price.
In April, Pradhan had said the Centre and the state governments have been considering bringing the petroleum products under the ambit of Goods and Services Tax.