25 have died due to potholes this monsoon, how many more do you want to kill? Bombay HC to MCGM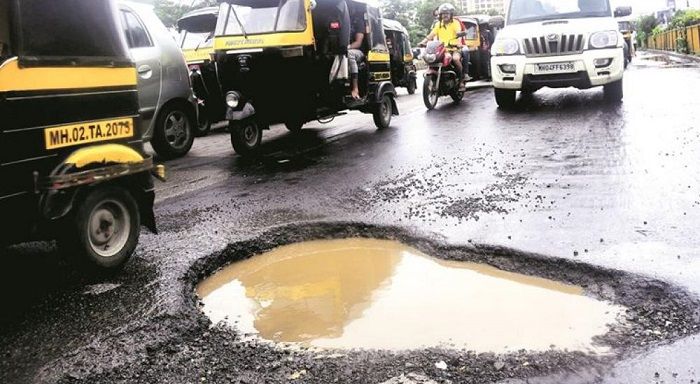 The Bombay High Court on Thursday rapped the Municipal Corporation of Greater Mumbai (MCGM) for its failure to repair potholes and maintain roads in the megapolis which has resulted in the death of over 20 people since monsoon.
A division bench of Chief Justice Chellur and Justice N M Jamdar was hearing a suo moto (on its own) public interest litigation on the poor condition of roads in Mumbai and the MCGM's failure to prevent and repair potholes every monsoon.
"We read that because of potholes more than 25 persons have died this monsoon. How many more do you (MCGM) want to eliminate (kill) before next monsoon? The condition of the roads here are bad. We are not at all satisfied," said Chief Justice Manjula Chellur.
The corporation's counsel Anil Sakhare today submitted to the court that it has so far addressed over 500 complaints regarding potholes to which the court quipped it was not concerned with how many complaints were attended to.
"We want the roads to be repaired and maintained properly. The corporation is not just required to do so but it is obliged to maintain the roads," Chief Justice Chellur said.
"From tomorrow onwards, I will personally note down how many potholes are there on the route I travel daily. If everyone starts doing it then entire Mumbai will be covered and then the corporation will know where there are potholes," Chief Justice Chellur said.
When informed by Sakhare that there was a committee of the civic body in place to carry out surveys, the court said, "After the committee has been formed how many persons have died due to potholes and bad roads? It is a shame that we are at a stage where we have to supervise the committee. Where are things going wrong?"
The court noted that the issue of potholes and bad roads persists not just in Mumbai but also in other cities and districts of Maharashtra.
"We therefore implede as respondents in this petition all local municipal corporations and municipal councils of the state," the court said posting the petition for hearing after two months.
The court has also appointed the member secretaries of Maharashtra State Legal Services Authority from each district as nodal officers.
"Any person having complaint regarding potholes or any obstacles on roads that is causing accidents can forward the same to the concerned civic body and also the nodal officer," the court directed.
With PTI inputs