3 killed, 15 injured in series of blasts and fire at chemical factory in Tarapur MIDC, Palghar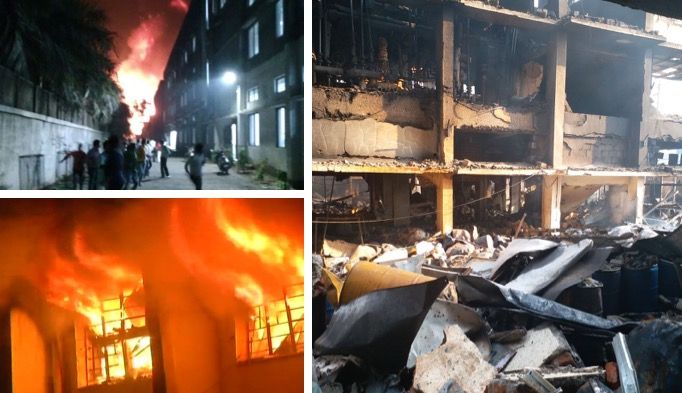 At least three people were killed and 15 injured after a series of blasts, followed by a massive fire, ripped through a private chemical manufacturing company at Tarapur MIDC in Maharashtra's Palghar district on Thursday night.
Palghar police said that the fire started around 11.15 pm yesterday at the factory of Novaphene Specialities Pvt Ltd. As of Friday morning police, fire, revenue and health personnel were on the spot and carrying out search & rescue operations.
A total of six factories, all dealing in chemicals, were affected by the blaze. They include Novophene, Unimax, Arti, Prachi, Rasayan and Darbar. Over 1,000 chemical units storing hazardous and flammable chemicals are located in the area.
"While the cause of the fire is still under investigation, at this point it seems that a boiler containing solvents overheated due to high pressure in Novaphene and exploded. The fire reached the barrels of chemical stored within the factory, which also exploded," an officer from the Collector's office in Palghar was quoted saying.
Authorities said that there were a series of blasts which could be heard as far as 25-30 km away and tremors could be felt around 10 km from the spot, which resulted in the shattering of doors and window panes of nearby houses.
Over 25 fire tenders from Vasai, Bhiwandi, Palghar, Dahanu, Tarapur, Reliance Thermal, Thane and Palghar were pressed into service. While major sections of the fire were extinguished around 5 am, firefighting was still underway in some small pockets.
#WATCH: Fire broke out in a chemical factory in Palghar's Tarapur. 5 people injured in the incident. (Earlier Visuals) #Maharashtra pic.twitter.com/xgK3FhFngO

— ANI (@ANI) March 9, 2018
During the search operation, three dead bodies were recovered. The deceased were identified as Pintu Kumar Gautam, Janu Adaria and Alok Nath, all from Arti industries, said SP Palghar. Arti Industries is located next to Novophene's factory.
Fifteen were injured due to the fire. According to Mahesh Sagar, Tehsildar of Palghar District, three were discharged immediately. Seven are currently undergoing treatment at Vikas Hospital, while five were in serious condition in Boisar's Thunga Hospital.
An MSEDCL official confirmed that power to over 50 industrial units located nearby was cut off as a precautionary measure.
---
Related: Mumbai witnessed 5 fire incidents on average everyday since Kamala Mills blaze: BMC data
---
Palghar district collector Prashant Narnaware, meanwhile, said the owners of the unit will likely be booked for negligence. The company reportedly owned by Shah Group, which has been into manufacturing chemical agents since last five decades.
"It is clear that the said unit did not follow any safety precautions and due to an exothermic reaction, the blast occurred in the solvent drums. We are probing and the guilty will be charged under relevant sections of the IPC and we may recommend the government to cancel the manufacturing license of the guilty units," Narnaware told Hindustan Times.
Tarapur Atomic Power Station, which is also situated on Boisar-Tarapur Road is around 20 kms away from the spot.