Teens may soon get licence to ride 100cc gearless bikes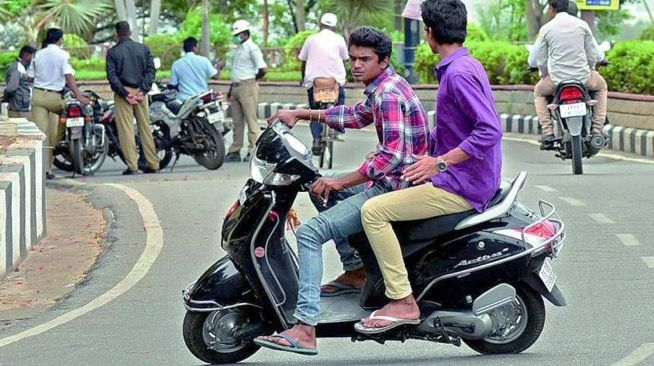 The government is mulling over a proposal to grant driving licence to teens in the age group of 16-18 years for riding gearless scooties with 100cc engine capacity.
The move, many say, will further aggravate the growing trend of youngsters zooming across the city in such light two-wheelers, something that is prevalent despite not being allowed under the existing laws.
Back in 2016, a group of state transport ministers had recommended granting licence to teens to ride gearless two-wheelers of 100cc capacity. But nothing materialised.
Incidentally, Central Motor Vehicles Act already provides for issuing licence to 16-18 age group for below 50cc gearless scooters. However, no such scooters are currently sold in India – a fact that was recently brought to the government's notice by the GoM.
Union Transport Minister Nitin Gadkari is hopeful that the decision will increase adoption of electric two-wheelers. Whether the licence for teens will only be restricted to the eco-friendly electric scooters, however, is not yet known.
While the decision is bound to please the younger crowd, others remain skeptical.
"There is no dearth of rash riders in my area. The cops work tirelessly to curb this menace, but with little success. Allowing teens to legally ride 100cc scooters will only worsen the problem. The government should focus on increasing adoption of public transport rather than taking steps which are detrimental to the city's existing traffic problem," said Bandra resident Aaron Periera.
Meanwhile, the government has also approved green registration plates for electric vehicles with numbers in white for private cars and yellow for commercial vehicles.
Gadkari said that the distinctive green registration plates will give a special recognition to electric vehicles, which will help them get preferential parking and other facilities, adding that an official notification to allow vehicles to get such number plates will be out in a week.
The transport ministry is also working on the proposal to exempt electric vehicles from transport permits for commercial operation on the lines of e-rickshaws. This proposal was first mooted in May 2017 when electric cabs were launched in Nagpur by Gadkari and Maharashtra CM Devendra Fadnavis.
"The government is also contemplating to ask taxi aggregators to have an incremental share of electric vehicles from 2020 onwards, which could be 1% of the fleet every year," the minister was quoted saying.