3-storey building collapses in Bhiwandi, 7 dead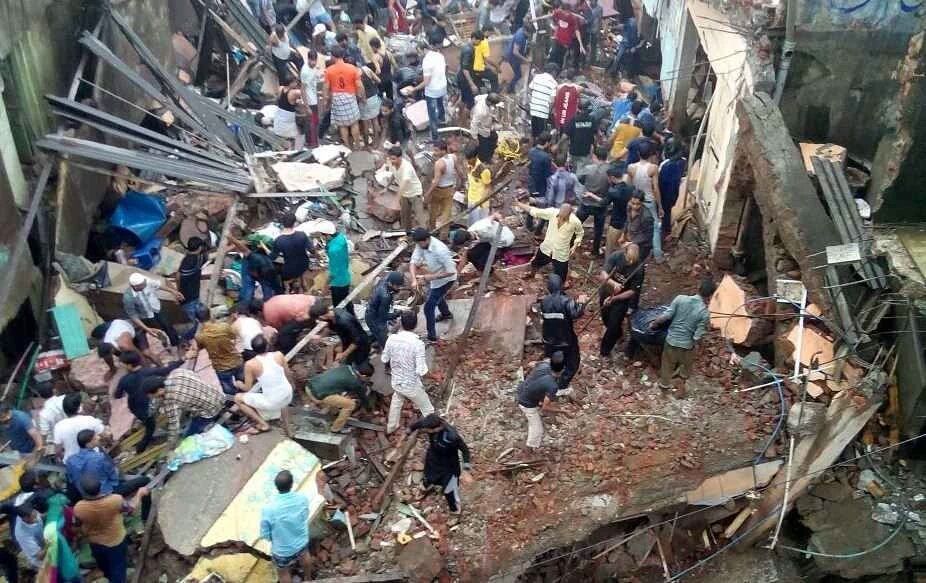 On Sunday morning, a three-storey building collapsed in Bhiwandi resulting in multiple casualties.
The three-storey building, located in Bhiwandi's Gaibi Nagar area, collapsed around 10 am on Sunday. Fire department and the disaster management cell, who were immediately alerted about the collapse, reached the spot within minutes.
As of 11:20 am, seven people have been declared dead and at least nine have been reported injured. The injured have been rushed to Indira Gandhi Memorial Hospital in Gulzar Nagar, Bhiwandi.
The building was home to around ten families.
Officials from the fire brigade and disaster management cell have managed to rescue around 20-25 persons from the debris, but a dozen more are feared trapped. Rescue operations are still underway.
According to preliminary reports, the incessant rains over the past 48 hours caused the building to collapse. According to an official, the building had been declared unfit for habitation by the civic body. However, further details are awaited.
The incident occurred a day after a three-storey Pathare House building in Girgaon collapsed on the adjacent building, causing three persons to get trapped in the debris.
Update (11:50 am): Bhiwandi Nizampur civic chief E.Ravindra confirmed that the building had been declared unfit for living and residents had already been served eviction notices. Residents, however, refused to vacate the premises and continued to stay at their own risk.
Update (12:45 pm): Rescue operation is still underway, although heavy rainfall is making it difficult.
Update (3 pm): Death toll rises to 8. Over 20 injured admitted to various hospitals. National Disaster Response Force (NDRF) continuing rescue operation.
Update (6 pm): The deceased were identified as Shahjahan Khurshid Aalam Ansari (42), her four sons Muddashir Khurshid Aalam Ansari (20), Sayyed Khurshid Aalam Ansari (17), Khalid Khurshid Aalam Ansari (16) and Shakim Khurshid Aalam Ansari (12), and Aayesha Mobin Ansari (50), Sophiya Shahnavaz Sheikh (19) and Yehem Ejaz Shah (10). Names of injured in the below picture.
8 dead n more than 10 people are injured in Bhiwandi Building collapsed. @ibnkhabar@thakur_shivangipic.twitter.com/EJR5pv0vk9

— Sumit Awasthi (@awasthis) July 31, 2016
Deceased and injured persons names: