5-year-old dies after concrete slab from school's roof gives way, falls on her head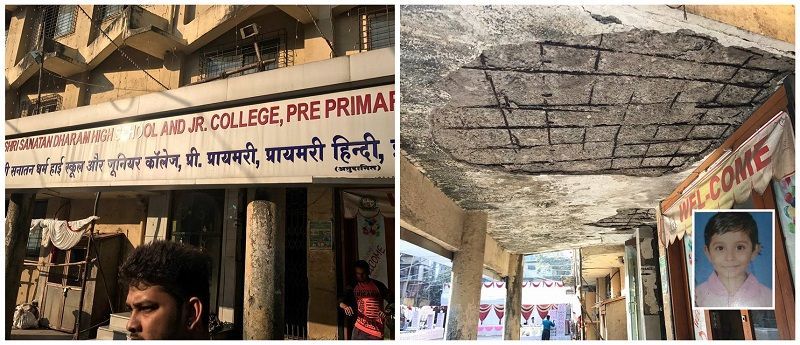 A five-year-old lost her life and her mother was injured after a portion of a concrete slab from the school building fell on their heads in Sion on Wednesday evening.
According to the police, the incident took place at 4:45 pm, when the girl's mother Rahisa Khan had come to pick her up from Sanatan Dharam School in Sion Koliwada. The student, Muskaan Ibrahim Khan, studied in senior KG.
While leaving the school premises, a portion of the school's roof broke off and fell on Muskaan, Rahisa, another student (Ajit Kumar) and his mother (Saroja Kumar).
All four were rushed to Sion hospital following the incident, were Muskaan was declared dead on arrival. A part of the slab had fallen directly on her head, causing severe head injury.
The others also suffered head injuries, but received treatment and are currently out of danger.
Antop Hill police have registered a case of accidental death and launched an investigation into the case. The school has also been booked for negligence.
Senior Police Inspector Nasir Shaikh of Antop Hill police station told Local Press Co, "We have registered an FIR against the school and an investigation is currently underway."
The school's management was booked under sections 304A (causing death by negligence) and 338 (causing grievous hurt by act endangering life or personal safety of others) of the Indian Penal Code. No arrests have been made so far.
Reports also suggest that a similar incident had taken place in the school premises last month. Although no one was injured then, parents had urged school authorities to make repairs. But to no avail.