Andheri-Goregaon Harbour line service inaugurated: 49 new services to start from April 1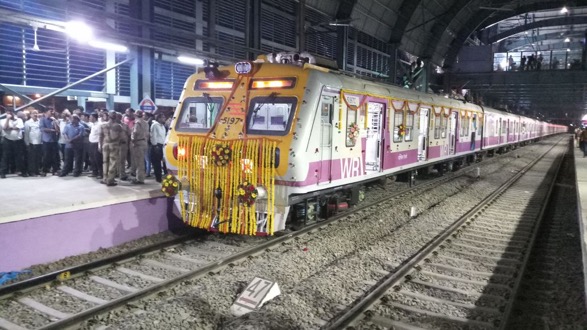 After a few hours of delay, not counting the four years from the initial deadline, Railway Minister Piyush Goyal on Thursday flagged off the inaugural run of the extended Harbour line service from Andheri to Goregaon.
The Minister inaugurated the Andheri-Goregaon service at an event held at the Goregaon station tonight. Prior to this, Harbour line services would terminate at Andheri on Western Railway.
The flag off ceremony, which was scheduled in the evening, finally kicked off around 9 pm as Piyush Goyal arrived at the function in Mumbai a few hours behind schedule. According to sources, his flight from Delhi had got delayed.
Sh Piyush Goyal, Hon'ble Minister of Rlys & Coal flagged off 1st suburban service on newly extended Harbour line section between Andheri and Goregaon with direct connectivity of Goregaon to CSMT. #Railways #HarbourUptoGoregaon pic.twitter.com/OaSRBNPLiT

— Western Railway (@WesternRly) March 29, 2018
Chief Minister Devendra Fadnavis, who was also expected to attend, had to miss the event as he was in the national capital trying to convince activist Anna Hazare to break his fast.
Meanwhile, Shiv Sena leaders boycotted the event as their MLA Sunil Prabhu was not on the official invitation list.
The extension would immediately benefit more than 13,000 daily commuters between Borivali-Andheri who will now be able to board the Harbour line trains bound for CSMT from Goregaon.
Regular services are expected to start next week, from April 1, 2018. A total of 42 Harbour line services will be operated between CSMT and Goregaon and seven services will operate between Churchgate and Goregaon on the Western corridor.
"The Harbour line will be further extended till Borivali, which will make commuting easy for those traveling to CSMT from Western Suburbs," Goyal said, adding the Union government has undertaken Rs 54,777 crore-worth projects for improving the railway infrastructure in Mumbai.