Boat carrying senior officials to Shivaji Memorial site for 'puja' overturns, one missing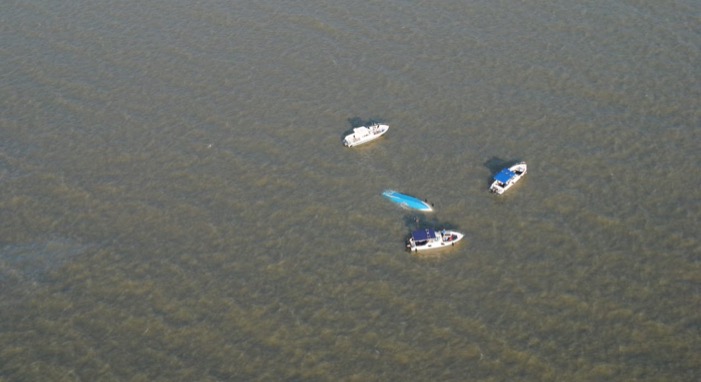 A boat carrying senior government officials, including Chief Secretary D.K. Jain, overturned off Mumbai coast while it was en route to the proposed Chhatrapati Shivaji Maharaj Memorial site in the Arabian Sea for a puja ceremony.
The state government had arranged two boats for the ceremony, one carrying government officials and the other carrying around 40 media persons.
Around 4:15 pm, the boat carrying the officials overturned near the underwater site of the proposed memorial complex, around 3.5 km off Marine Drive.
According to sources, the 40-feet MRM was operated by West Coast Marine and capsized while the captain was trying to navigate rocky waters near Prongs Lighthouse.
Journalist Vivek Bhavsar, who was on the other boat, alleged that the captain of the other vessel was unaware of the location from the start.
"He could not find the location even after sailing for two hours. We had lost our way," he was quoted as saying.
The Indian Coast Guard, Marine Police, and other agencies launched a major rescue maritime and aerial operation with two helicopters and managed to rescue everyone apart from Siddhesh Pawar (25).
Coast Guard and other agencies are still searching for him as of publishing this report. The other victims, meanwhile, were rescued and taken back to safety on the other boat.
It's an unfortunate incident. A person is missing. We are still looking for him. Investigation will be conducted to find out what caused the accident: Vinod Tawde, Maharashtra Minister, on boat capsized near Shivaji Smarak pic.twitter.com/zl4dbMzgWw

— ANI (@ANI) October 24, 2018
The officials were on the way to the proposed site of the Shivaji Smarak, being built off the coast of Mumbai, to lay the foundation stone. However, the state government has cancelled the function following the incident.
Larsen and Toubro (L&T) Company was scheduled to start work on the 212-metre high memorial today after the ceremony's completion.