Brace for more delays as Mumbai Airport's main runway to remain inoperational even today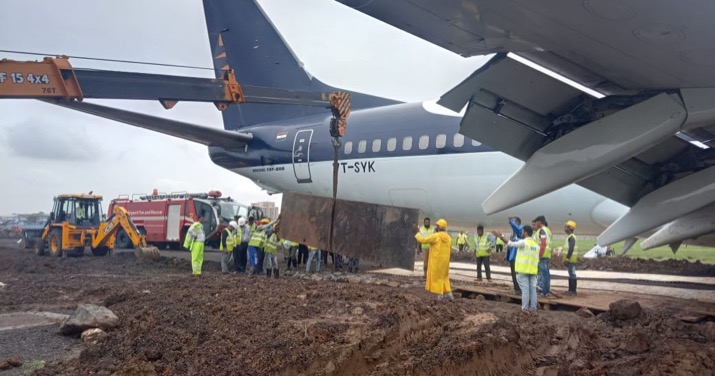 Flyers may have to brace for more delays or cancellations as operations from the main runway of Mumbai airport, which has been shut since Monday night due to the skidding of a SpiceJet aircraft, are unlikely to resume even today.
In the last two days, around 280 flights have been cancelled from the airport as a result of the incident. As of Thursday morning, both arrivals and departures have been delayed on average by 20-25 minutes, according to airline tracker Flightradar24.
A team from Air India Engineering Services Ltd had been roped in to pull out the stuck Boeing 737-800 from the unpaved area. The operation, which was expected to be completed by now, however, is taking more time due to the extent of the damage.
Since the stranded aircraft has not been removed completely, the MIAL has reportedly obtained NOTAM (notice to Airmen) for runway 09/27 (main runway) till Thursday midnight.
The NOTAM is given to pilots and includes information on potential hazards on a flight route.
The partial operations at the Mumbai airport has resulted in massive flight cancellations and delays. Flights are currently being operated by the secondary runway, which can only handle 36 movements per hour compared to the 45 of the main runway.
"The NOTAM period for the main runway has been extended to midnight Thursday," the source said.
A SpiceJet flight from Jaipur carrying 167 passengers and the crew overshot the runway on July 1 after landing amid heavy rains, leaving the plane stuck partially between the main runway (09×27) and the grass area.
Following the incident, Mumbai International Airport Ltd (MIAL), which operates the busy airport, had claimed that the runway was expected to be made fully operational by Thursday.
Meanwhile, Directorate General of Civil Aviation (DGCA) has grounded the pilots of SpiceJet's Boeing 737 that overshot the main runway.