Mumbai Airport Update: Secondary runway operational, more cancellations likely due to restricted capacity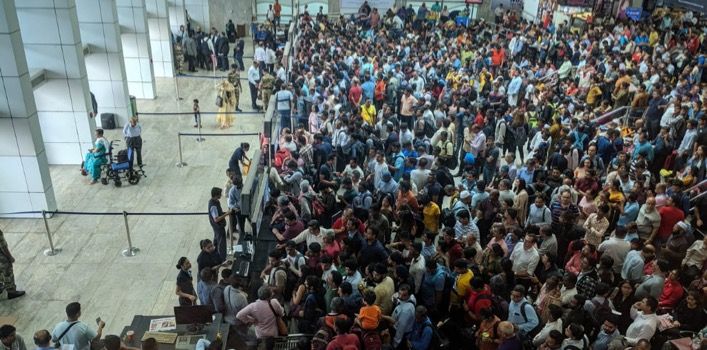 The Union Minister for Civil Aviation on Wednesday confirmed that the busy Mumbai Airport in the country's financial capital is operational, but is catering to fewer flights owing to the closure of the main runway.
Mumbai Airport is the second busiest in the country, handling around 1,000 arrivals and departures per day.
"Mumbai Airport has not been shut. One of the runways which used to take 45 flights per hour, is now taking 36 flights. So, there has been some dislocation. It will be sorted out very quickly," said Union Civil Aviation Minister Hardeep Singh Puri.
On Tuesday, thousands of passengers were left stranded after the cancellation or diversion of about 250 flights from the Chhatrapati Shivaji International Airport owing to runway closure.
The runway was closed after a SpiceJet flight (SG6237) from Jaipur, carrying 167 passengers and crew, overshot the runway after landing amid heavy rains. The aircraft got stuck partially on the runway and the nearby grass area.
Efforts to remove the plane from the runway were underway as of Wednesday morning. However, all flights were subsequently shifted to the secondary runway, which can only handle 36 movements per hour compared to the 45 of the main runway.
Earlier, a team of engineers and technicians from Air India were mobilised to remove the stuck plane with Disabled Aircraft Recovery Kit (DARK) as the kit is only available with the national carrier.
"A 150-metre long ramp is being prepared to enable push the aircraft out of the grassy area. Air India's disable aircraft removal kit has been mobilised," an official of the Mumbai International Airport Limited (MIAL) said.
The aircraft is likely to be removed by Thursday, following which the runway would be fully operational.
Current situation at the main runway of Mumbai airport.

Air India staff removing SpiceJet aircraft from the runway area @airindiain @flyspicejet @CNBCTV18Live @CNBCTV18News pic.twitter.com/vNtcaDK7DE

— Anu Sharma (@awnusharma) July 3, 2019
Meanwhile, operators like Air India, IndiGo, Air Vistara among others have announced waivers for customers affected by the incident.
Aviation regulator DGCA has also issued an advisory titled "Monsoon Operations" and asked airlines to ensure that pilots don't use an "unstabilised approach" while landing aircraft in bad weather.
"We have also instructed heads of flight safety of airlines to include in their safety briefings to pilots, an express instruction to refrain from landing with unstabilised approach while experiencing adverse weather conditions and initiate a go around," Director General of Civil Aviation Arun Kumar said.