Byculla zoo's baby penguin no more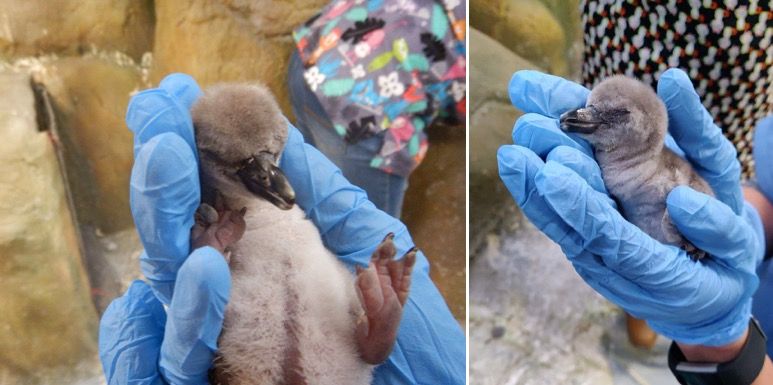 The first India-born Humboldt penguin, conceived at Mumbai's Veermata Jijabai Bhosale Udyan, died on August 22 due to complications. He was one week old.
Byculla zoo authorities declared the news about his demise earlier today.
After its death, the body was sent to Bombay Veterinary College for a post-mortem on Thursday. A preliminary examination showed abnormalities like yolk sac retention and liver dysfunction as the cause of death.
According to the release, 60 percent mortality is expected in case of penguin eggs and chicks due to various reasons like infertility of egg, malpositioning of the chick inside the egg, failure to hatch on its own, chick deformity, an inability of parents to feed the chick, yolk sac retention, residual albumin etc.
It further cites the importance of the first three months in their survival and a 30-35 percent mortality rate for chicks less than 30 days of age.
About the baby penguin:
Born on August 15, it was the first ever first Humboldt penguin to be born in captivity in the country.
It was born to Flipper and Mr. Molt, two of the eight penguins brought to the city by the Brihanmumbai Municipal Corporation (BMC) in 2016. Flipper's the oldest female among the lot, while Mr. Molt is the youngest male.
Flipper laid the egg on July 5. Since then, the 'couple' had been diligently guarding it from the other penguins and zoo staff. The egg hatched after 40 days, in line with the normal incubation period for the species.
The staff had cordoned off an area inside the penguin enclosure where the baby was housed.
The zoo's release also mentioned that the parents showed good parenting behaviour.
"We are hopeful of better results of breeding and chick survival of Humboldt penguins at this zoo in future," it added.
The zoo had previously lost another penguin, Dory, in October 2016.