CA injured in Andheri bridge collapse succumbs to injuries, death toll rises to 2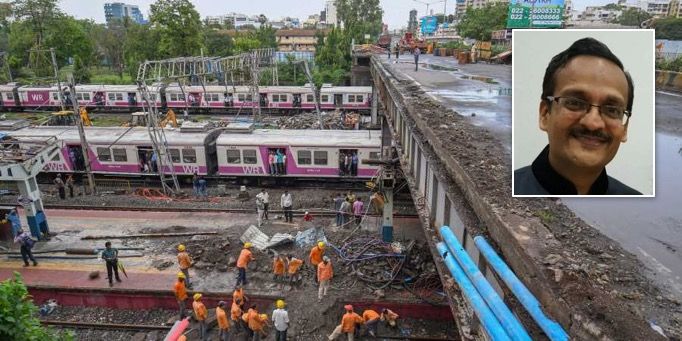 After a four week battle for life, Manoj Mehta succumbed to injuries sustained after a portion of the road over bridge collapsed on to the tracks at Mumbai's Andheri railway station on July 3.
Mehta, a chartered accountant associated with a prominent construction firm in Palghar, died at Nanavati Hospital in Vile Parle on Sunday evening.
The CA was injured after the debris of the bridge fell on him while he was waiting for the Dahanu-bound train on Platform No.8.
Mehta suffered severe injuries to his spine, abdomen, and chest, and had been on ventilator support since the day he was admitted. He was kept on renal support and underwent two surgeries in the hospital.
However, his conditioned worsened over the last few days and he died due to multiple organ failure at around 7:30 pm on Sunday.
According to family members, Mehta was a former president of the Rotary Club in neighbouring Palghar district and was also associated with several educational and social institutions. He is survived by a wife and two daughters.
Earlier, on July 8, a 36-year-old woman, Asmita Katkar, died in RN Cooper Hospital in Juhu in Mumbai after being grievously hurt in the bridge collapse.
The gangway of a road overbridge (Gokhale Bridge), connecting the eastern and western parts of suburban Andheri, collapsed above Western Railway's tracks early morning on July 3.
Following the mishap, a joint team comprising of Indian Institute of Technology, Bombay (IIT-B), Western Railway, Central Railway and Brihanmumbai Municipal Corporation (BMC) officials was appointed to audit the 400 plus such structures in the city.
The team recently shut Delisle Bridge-Lower Parel railway bridge after it deemed it unsafe for use.