CBSE paper leak government's fault, collectively boycott re-exam: Raj Thackeray to students, parents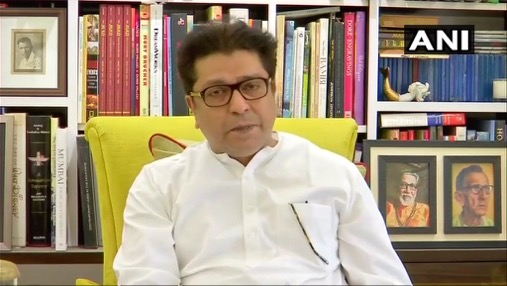 Amid the ongoing controversy, Maharashtra Navnirman Sena President Raj Thackeray on Friday asked students and parents to "boycott the re-examinations" proposed by the government over the Central Board of Secondary Education (CBSE) question paper leak.
Addressing parents and students, Thackeray said it was the responsibility of the government, but instead of owning up its mistake, it was again burdening the students with a re-examination of the leaked papers.
"The government is incapable of safeguarding the question papers and yet it is the students who have to bear the anguish of a re-exam. Why should they (students) be made to undergo this ordeal for no fault of theirs?" Thackeray demanded.
"I appeal to all the parents of CBSE students in Maharashtra and rest of the country, that under no circumstances should you permit your children to sit for the re-examinations. If you bow and adjust now, you will be made to bend more in future."
He called for a tough and firm united stand on the issue.
"The government must be given a clear message to set its house in order first instead of compelling the students to suffer for its mistakes. If the parents falter now, and the students write the examinations again, then such mistakes will keep recurring in future," he said.
It's the failure of Govt, without accepting it, why do they want students to re-appear for exam? I request to the parents throughout the country, don't let your child sit for re-examination in any condition: Raj Thackeray #CBSEPaperLeak pic.twitter.com/2FGlVxXfDF

— ANI (@ANI) March 30, 2018
Thackeray's comments come after the leak of the economics question paper of Class 12 and the mathematics paper of Class 10 was reported on Wednesday.
The exam papers were circulated in at least WhatsApp groups with more than 50 members each including private tutors, students and parents. Delhi Police Crime Branch is currently questioning admins of these WhatsApp groups.
It has also sought a reply from Google about the email that was sent to CBSE chairperson. The mail, sent from a Gmail ID, contained images of handwritten questions papers.
Followng the leak, CBSE announced a re-examination in the two papers, although the dates are yet to be announced.
The decision, however, met with strong opposition from students and parents. On Friday, students from Punjab, Uttar Pradesh, New Delhi among others took to the roads to protest agains the leak.
Meanwhile, PTA members of Mumbai have written to Union HRD Minister Prakash Javadekar seeking time to meet and requested him to not conduct re-examination of the Maths exam as there was no paper leak in Mumbai region.
With agency inputs