Dangal actress Zaira Wasim shares video post alleging molestation on Delhi-Mumbai Vistara flight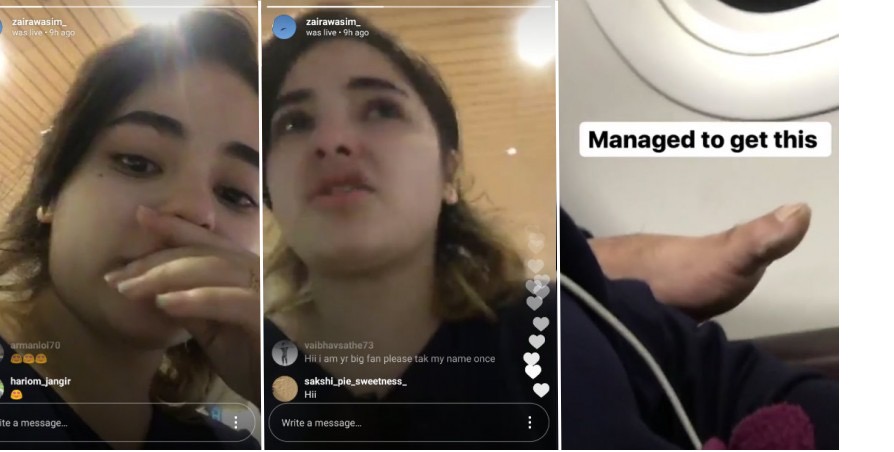 In a video post, actor Zaira Wasim alleged that she was harassed and molested by a fellow passenger seated in the back row on board a Vistara Delhi-Mumbai flight.
The visibly shaken 'Dangal' actress took to Instagram on Saturday night to narrate her ordeal in a video post.
"So, I was in a flight travelling from Delhi to Mumbai today and right behind me one middle-aged man who made my two-hour journey miserable. I tried to record it on phone to understand it better because the cabin lights were dimmed, I failed to get it.
The lights were dimmed, so it was even worse. It continued for another 5 to 10 minutes and then I was sure of it. He kept nudging my shoulder and continued to move his foot up and down my back and neck," she said in the video post.
She ended her post with, "Slow claps for Vistara's wonderful crew guys."
The 17-year-old also said that she received no help from the cabin crew when she alerted them. Meanwhile, the actress managed to take a photo of the man's foot on her arm rest.
"This is not done, I am disturbed. Is this how you're going to take care of girls?" the National Award winner said as she broke down in the video.
"Who is going to help us girls? If we don't help ourselves, nobody will come ahead," she added.
Following the incident, the National Commission for Women has taken suo motu cognizance of the matter, and chairperson Rekha Sharma said Vistara will be served notice.
"I just saw the video on Instagram & my heart goes out to her. I am really horrified the way this incident happened & after that the crew didn't help this girl. Vistara hasn't sensitised their crew to take action against men torturing women on flight. I am taking suo motu cognizance of this & giving notice to Vistara. Also, a copy to DGP Maharashtra to act against Vistara Airlines," ANI quoted Sharma as saying.
"I would like to tell Vistara that if they have zero tolerance, why have they not named this person till now? Naming them is very very important. We would like to tell Zaira that we are there to help her out in any way we can," Sharma added.
Meanwhile, in response to the video, Vistara said it would look into the complaint, and added that it had "zero tolerance for such behaviour".
"We @airvistara have seen the reports regarding @ZairaWasimmm experience with another customer on board last night. We are carrying out detailed investigation and will support Zaira in every way required. We have zero tolerance for such behaviour," the tweet read.
Later, sources in the airline said that Zaira did not bring the incident to the crew's notice, adding that when the crew members asked Zaira and her mother to file a complaint, they denied doing so.
"Zaira Wasim had not brought the incident to notice of the crew till the flight commenced descent. After landing the crew inquired about the incident and asked Zaira and her mother if they want to file a complaint but they denied," sources in Visatara Airline told ANI.
"The airline is yet to contact the accused male passenger. All cabin crew have been summoned for inquiry in the incident. Zaira Wasim yelled at the accused passenger only during the descent of the flight. The cabin crew were all seated in their seats because it's mandatory to have no movement during descent," they added.